3 Steps to Shutting up Tool Chatter
What is Chatter in Machining?
Cutting tools undergo a great deal of force during the machining process, which cause vibrations – also known as chatter or harmonics. Avoiding these vibrations entirely is not possible, though minimizing them is pivotal for machining success. Vibrations become damaging when proper machining steps are not followed. This leads to strong, part-ruining chatter. In these situations, parts have what is known as "chatter marks," or clear vibration marks along the surface of a part. Tools can experience an increased rate of wear due to excess vibration.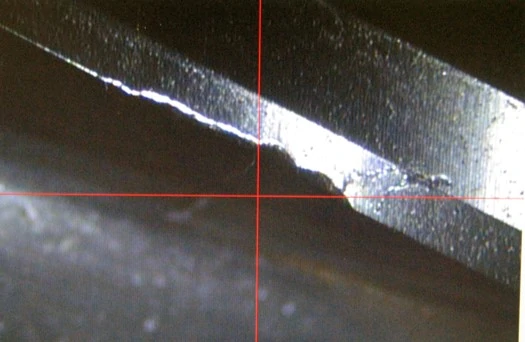 How to Reduce Chatter in Machining
Select the Right Tool for Your Job
It seems elementary, but selecting the best tool for your application can be confusing. With so many different geometric styles for tooling – overall length, length of cut, reach, number of flutes – it can sometimes be difficult to narrow down one specific tool for your job. Oftentimes, machinists opt for general purpose tooling that can perform a variety of operations, overlooking the option that's optimized for one material and job.
Use Material Specific Tooling
Opting for Material Specific Tooling is helpful, as each material has different needs. For example, steels are machined differently than aluminum materials. Everything from the chip size, to chip evacuation, is different. Variable Helix or Variable Pitch designs help to minimize chatter by reducing harmonics, which are caused by the cutting edge having repeated contact with the workpiece. In order to reduce harmonics, the time intervals between flute contact with the workpiece are varied.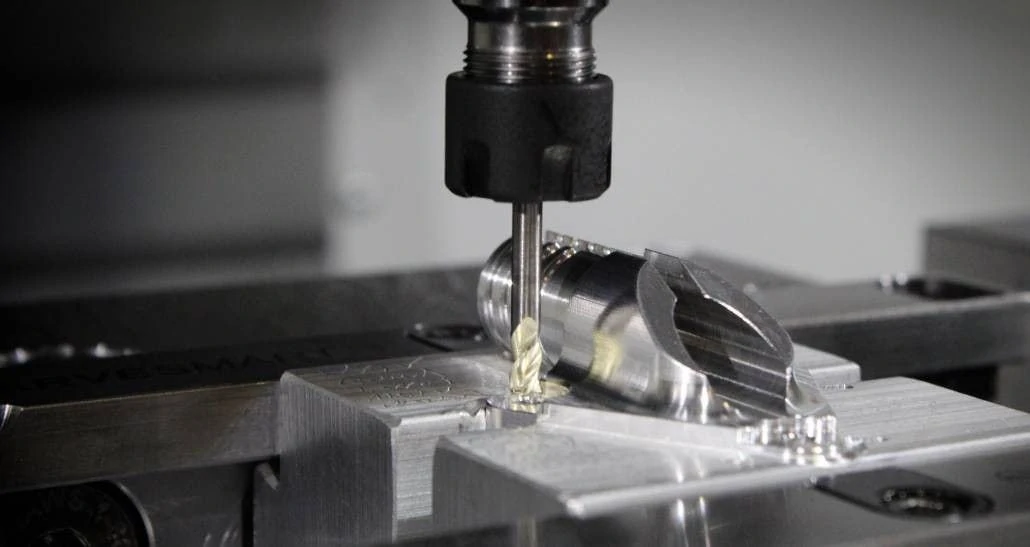 Consider Tool Length
Overall length is another important factor to consider when deciding on a tool for your job. The more overhang, or length the tool hangs from the spindle, the less secure the spindle-to-tool connection is, and the more vibration. Ensuring that your tool is only as long as needed for your operation is important to minimizing chatter and harmonics. If machining deep within a part, opt for reached tooling or an extended reach tool holder to help solidify the connection.
Ensure a Secure Connection
Tool Holder & Shank Relationship
When it comes to secure tool holding approaches, both the tool shank and the collet are important. A loose tool, unsurprisingly, has more ability to move, or vibrate, during machining. With this in mind, Helical offers Shank Configurations to help the connection including the ToughGRIP Shank, which replaces a smooth, mirror-like surface with a rougher, coarser one for increased friction. Helical is also a licensee of the HAIMER Safe-Lock™, added grooves on the shank of a tool that work opposite of the spindle rotation, securely fastening the tool in place.

Choosing Collet Types
Machinists must also know the different types of collets available to them to identify if a better solution might be necessary. For example, Hydraulic Tool Holders or Shrink Fit Tool Holders promote a stronger connection than a Mechanical Spindle Tightening method.
For more information, see Key Tool Holding Considerations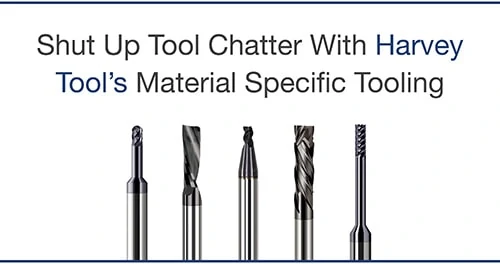 Selecting a Chatter Minimizing Strategy
How a tool is run can mean the difference between stellar job results and a ruined part. This includes both the parameters a tool is run at, as well as the direction by which it rotates – either a Conventional Milling or a Climb Milling technique. The key distinction between these two methods lies in the relationship between the cutter's rotation and the direction of the feed.
Conventional Milling
In conventional milling, the chip width starts from zero and increases gradually, causing the process of heat generation onto the workpiece rather than the chips. Heat generation causes deformities and tool failure such as work hardening, creating more headaches for a machinist. For this reason, conventional milling is generally only recommended for tools with high toughness or for breaking into case hardened materials.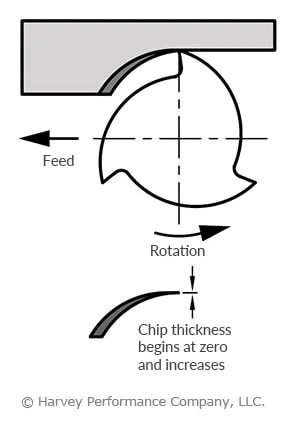 Climb Milling
Most modern machine shops will use a climb milling technique, or when the chip width starts at its maximum and decreases during the cut. Climb Milling will offer a more consistent cut than traditional methods, and puts less stress on the tool. Think of it like weight lifting – doing the heavy lifting will be easiest at the beginning of your workout. Similarly, a cut in which the thickest chip is removed first helps the tool maintain its strength. Because the chip cutting process is more swift, vibrations are minimized.
For more information, see Climb Milling Vs. Conventional Milling
In Conclusion
Vibrations are unavoidable during the machining process, but minimizing them can mean the difference between successful machining and scrapped parts. Following three simple rules can help to keep your chatter and harmonics under control, including: Selecting the right tool, ensuring a secure machine-tool connection, and using it in a climb milling strategy. Both Harvey Tool and Helical Solutions have tools that can help, including shank modifications and Variable Helix or Variable Pitch end mills.
https://www.harveyperformance.com/wp-content/uploads/2017/11/Feature-Image-Tool-Chatter-IMG.jpg
525
1400
Harvey Performance Company
http://www.harveyperformance.com/wp-content/uploads/2018/08/Logo_HarveyPerformanceCompany-4.png
Harvey Performance Company
2017-11-08 09:30:47
2023-12-01 16:08:47
3 Steps to Shutting up Tool Chatter