How to Avoid 4 Major Types of Tool Wear
The following is just one of several blog posts relevant to High Efficiency Milling. To achieve a full understanding of this popular machining method, view any of the additional HEM posts below!
Introduction to High Efficiency Milling I High Speed Machining vs. HEM I How to Combat Chip Thinning I Diving into Depth of Cut I Intro to Trochoidal Milling
---
What Is Tool Wear?
Tool wear is the breakdown and gradual failure of a cutting tool due to regular operation. Every tool will experience tool wear at some point in its life. Excessive wear will show inconsistencies and have unwanted effects on your workpiece, so it is important to avoid tool wear in order to achieve optimal end mill performance. Tool wear can also lead to failure, which in turn can lead to serious damage, rework, and scrapped parts.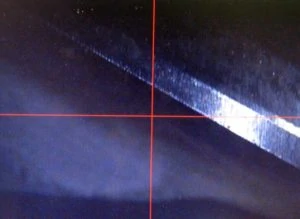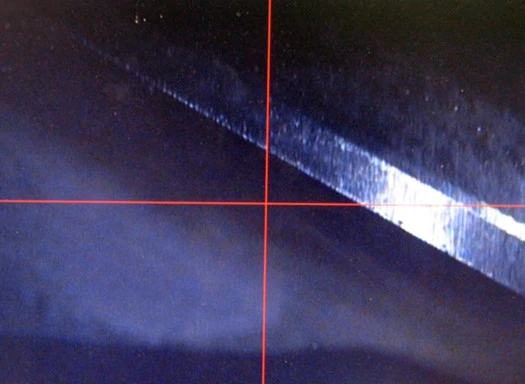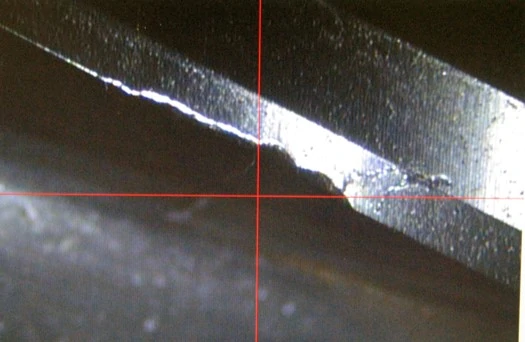 To prolong tool life, identifying and mitigating the various signs of cutting tool wear is key. Both thermal and mechanical stresses cause tool wear, with heat and abrasion being the major culprits. Learning how to identify the most common types of tool wear and what causes them can help machinists remedy issues quickly and extend tool longevity.
Types of Tool Wear And Their Solutions
Abrasive Wear
The wear land is a pattern of uniform abrasion on the cutting edge of the tool, caused by mechanical abrasion from the workpiece. This dulls the cutting edge of a tool, and can even alter dimensions such as the tool diameter. At higher speeds, excessive heat becomes more of an issue, causing more damage to the cutting edge, especially when an appropriate tool coating is not used.
Utilizing Proper Tool Coatings
Using a tool coating with a high microhardness rating is crucial to avoiding abrasive wear. Microhardness ratings help determine a cutting tool's level of wear resistance. For example, bare tungsten carbide has a Vickers Hardness (HV) ranging from 760 HV to 1740 HV while coatings such as TiN have an HV of 2213 or more. Despite facing maximum forces during cutting operations, the addition of coating on a tool significantly improves its ease of material removal due to higher hardness. When hardness in a coating is elevated wear is mitigated due to the stack up.
Coolant Usage
If the wear land becomes excessive or causes premature tool failure, reducing the cutting speed and optimizing coolant usage can help. Coolant is directed towards the cutting action of a tool during CNC operations. It prevents tool failure by countering high temperatures. Generally machinists opt for either Flood or High Pressure coolant methods. Flooding allows for low pressure chip flushing by providing lubricity. High Pressure coolant provides almost instant cooling of a part and works to evacuate chips at a faster rate. Both methods improve part finish and minimize chip recutting, which can damage a cutting tool.
High Efficiency Milling
High Efficiency Milling (HEM) toolpaths can help reduce wear by spreading the work done by the tool over its entire length of cut. This prevents localized wear and will prolong tool life by using the entire cutting edge available. The image referenced below compares traditional (standard) milling and the newer HEM method. HEM evenly disperses heat across the cutting edge by employing a lower radial depth of cut (RDOC) and a higher axial depth of cut (ADOC). This reduces the likelihood of tool failure and lengthens the tool wear process.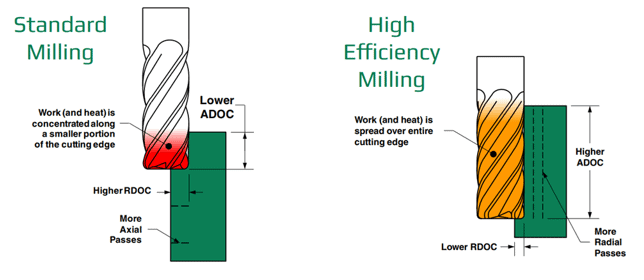 ---
Chipping
Chipping can be easily identified by a nicked or flaked edge on the cutting tool, or by examining the surface finish of a part. A poor surface finish can often indicate that a tool has experienced some sort of chipping, which can lead to eventual catastrophic tool failure if it is not caught. \When a chipped tool engages with a workpiece the cutting edges are not even leading to high and low spots within the surface finish.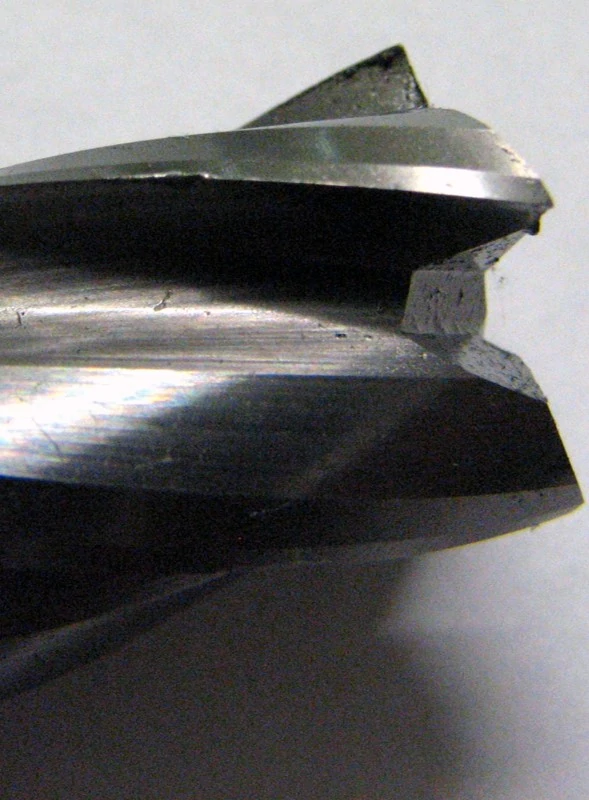 Chipping is typically caused by excessive loads and shock-loading during operation, but it can also be caused by thermal cracking, another type of tool wear which is explored in further detail below.
Reduce Chatter
To counter chipping, ensure the milling operation is completely free of vibration and chatter. Chatter occurs because cutting tools experience high forces during CNC machining operations. While machinists cannot entirely avoid chatter, minimizing it prevents vibration marks and excess wear from appearing along the surface of a tool or part. Taking a look at the speeds and feeds can also help. Interrupted cuts and repeated part entry can also have a negative impact on a tool. Reducing feed rates for these situations can mitigate the risk of chipping.
---
Thermal Cracking
Thermal cracking is often identified by cracks in the tool perpendicular to the cutting edge. Cracks form slowly, but they can lead to both chipping and premature tool failure.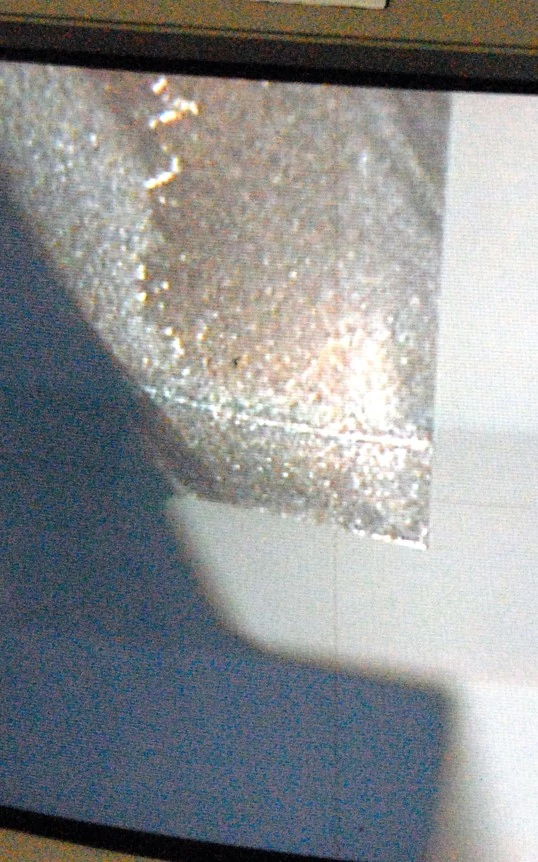 Thermal cracking, as its name suggests, is caused by extreme temperature fluctuations during milling. Adding a proper coating to an end mill is beneficial in providing heat resistance and reduced abrasion on a tool.
HEM Toolpaths
HEM toolpaths provide excellent protection against thermal cracking. As previously mentioned, these toolpaths spread the heat across the cutting edge of the tool, reducing the overall temperature and preventing serious fluctuations in heat.
---
Fracture
Fracture is the complete loss of tool usage due to sudden breakage, often as a result of improper speeds and feeds, an incorrect coating, or an inappropriate depth of cut.
Optimal Tool Holding
Tool holder issues or loose work holding can also cause a fracture, as can inconsistencies in workpiece material properties. Establishing a secure connection between the tool and machine reduces the risk of tool runout and scrapped parts. Machinists generally experience improved performance in hydraulic and shrink fit tool holders compared to more mechanical tightening methods.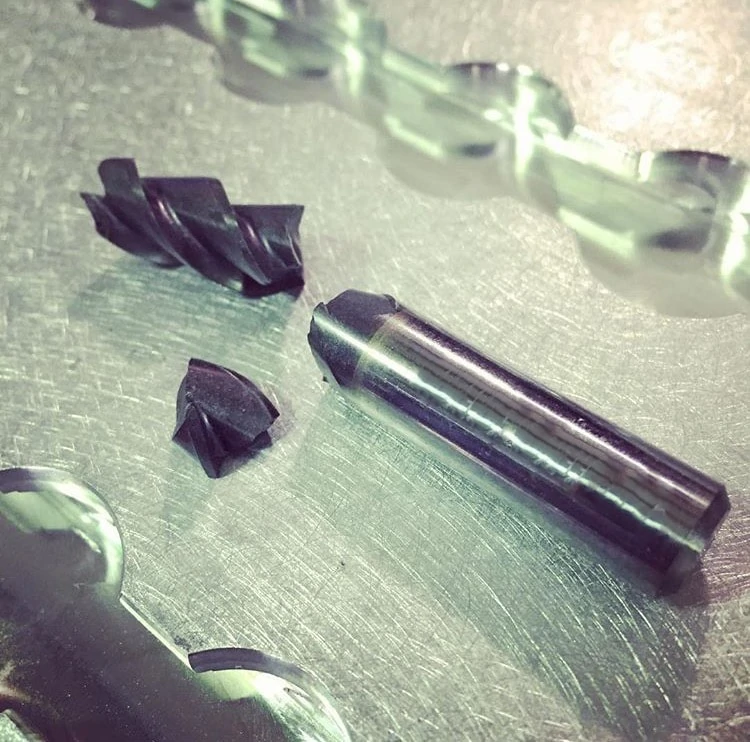 Appropriate Depth of Cut
Adjusting the speeds, feeds, and depth of cut and checking the setup for rigidity will help to reduce fracturing. The tool's axial engagement with a part must be appropriate in order to prevent tool deflection, especially during slotting operations. As pictured below, with increasing slot lengths comes the necessity for longer lengths of cut. Above all, you should choose a tool that offers the highest productivity and least amount of deflection.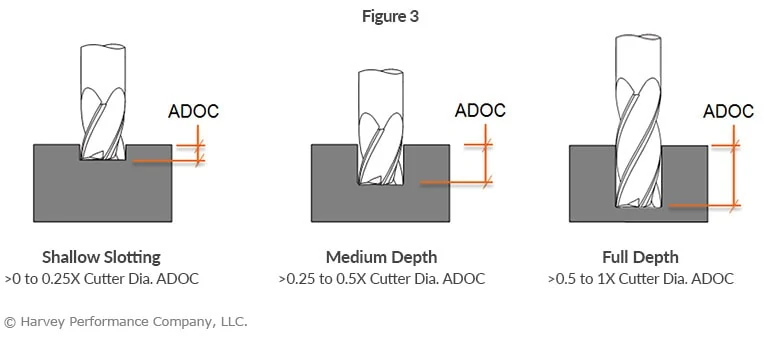 Optimizing coolant usage can also be helpful to avoid hot spots in materials which can dull a cutting edge and cause a fracture. HEM toolpaths prevent fracture by offering a more consistent load on a tool. Shock loading is reduced, causing less stress on a tool, which lessens the likelihood of breakage and increases tool life.
---
It is important to monitor tools and keep them in good, working condition to avoid downtime and save money. Wear is caused by both thermal and mechanical forces, which can be mitigated by running with appropriate running parameters and HEM toolpaths to spread wear over the entire length of cut. While every tool will eventually experience some sort of tool wear, the effects can be delayed by paying close attention to speeds and feeds and depth of cut. Preemptive action should be taken to correct issues before they cause complete tool failure.
https://www.harveyperformance.com/wp-content/uploads/2017/07/Feature-Image-Tool-Wear-IMG.jpg
525
1400
Harvey Performance Company
http://www.harveyperformance.com/wp-content/uploads/2018/08/Logo_HarveyPerformanceCompany-4.png
Harvey Performance Company
2017-07-11 16:30:43
2023-11-17 14:56:39
How to Avoid 4 Major Types of Tool Wear