Benefits & Drawbacks of High and Low Helix Angles
While many factors impact the outcome of a machining operation, one often overlooked factor is the cutting tool's helix angle. The Helix angle of a tool is measured by the angle formed between the centerline of the tool and a straight line tangent along the cutting edge.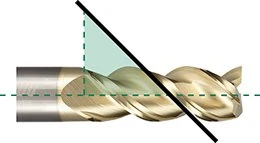 A higher helix angle, usually 40° or more, will wrap around the tool "faster," while a "slower" helix angle is usually less than 40°.
When choosing a tool for a machining operation, machinists often consider the material, the tooling dimensions and the flute count. The helix angle must also be considered to contribute to efficient chip evacuation, better part finish, prolonged tool life, and reduced cycle times.
Helix Angles Rule of Thumb
One general rule of thumb is that as the helix angle increases, the length of engagement along the cutting edge will decrease. That said,
there are many benefits and drawbacks to slow and high helix angles that can impact any machining operation.
Slow Helix Tool <40°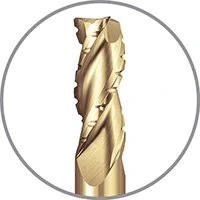 Benefits
Enhanced Strength – A larger core creates a strong tool that can resist deflection, or the force that will bend a tool under pressure.
Reduced Lifting – A slow helix will decrease a part from lifting off of the worktable in settings that are less secure.
Larger Chip Evacuation – The slow helix allows the tool to create a large chip, great for hogging out material.
Drawbacks
Rough Finish – A slow helix end mill takes a large chip, but can sometimes struggle to evacuate the chip. This inefficiency can result in a sub-par part finish.
Slower Feed Rate – The increased radial force of a slow helix end mill requires running the end mill at a slower feed rate.
High Helix Tool >40°
Benefits
Lower Radial Force – The tool will run quieter and smoother due to better shearing action, and allow for less deflection and more stability in thin wall applications.
Efficient Chip Evacuation – As the helix angle increases, the length of cutting edge engagement will decrease, and the axial force will increase. This lifts chips out and away, resulting in efficient chip evacuation.
Improved Part Finish – With lower radial forces, high helix tools are able to cut through material much more easily with a better shearing action, leaving an improved surface finish.
Drawbacks
Weaker Cutting Teeth – With a higher helix, the teeth of a tool will be thinner, and therefore thinner.
Deflection Risk – The smaller teeth of the high helix tool will increase the risk of deflection, or the force that will bend a tool under pressure. This limits how fast you can push high helix tools.
Increased Risk of Tool Failure – If deflection isn't properly managed, this can result in a poor finish quality and tool failure.
Helix Angle: An Important Decision
In summary, a machinist must consider many factors when choosing tools for each application. Among the material, the finish requirements, and acceptable run times, a machinist must also consider the helix angle of each tool being used. A slow helix end mill will allow for larger chip formation, increased tool strength and reduce lifting forces. However, it may not leave an excellent finish. A high helix end mill will allow for efficient chip evacuation and excellent part finish, but may be subject to increased deflection, which can lead to tool breakage if not properly managed.
https://www.harveyperformance.com/wp-content/uploads/2020/02/Feature-Image-High-and-Low-Helix-Angles-IMG.jpg
600
1599
Harvey Performance Company
http://www.harveyperformance.com/wp-content/uploads/2018/08/Logo_HarveyPerformanceCompany-4.png
Harvey Performance Company
2020-02-05 16:07:56
2021-11-22 11:24:27
Benefits & Drawbacks of High and Low Helix Angles