Non-ferrous and non-metallic materials are not usually considered difficult to machine, and therefore, machinists often overlook the use of tool coatings. But while these materials may not present the same machining difficulties as hardened steels and other ferrous materials, a coating can still vastly improve performance in non-ferrous applications. For instance, materials such as aluminum and graphite can cause machinists headaches because of the difficulty they often create from abrasion. To alleviate these issues in non-ferrous machining applications, a popular coating choice is Helical Solution's Zplus coating.
What is Helical Solutions' Zplus Coating?
Helical's Zplus is a Zirconium Nitride-based coating, applied by a Physical Vapor Deposition (PVD) process. This method of coating takes place in a vacuum and forms layers only microns thick onto the properly prepared tool. Zirconium Nitride does not chemically react to a variety of non-ferrous metals, increasing the lubricity of the tool and aiding in chip evacuation.
When Should a Machinist Use Helical Solution's Zplus?
Working with Abrasive Materials
While Zplus was created initially for working in aluminum, its hardness level and maximum working temperature of 1,110°F enables it to work well in abrasive forms of other non-ferrous materials, as well. This coating decreases the coefficient of friction between the tool and the part, allowing it to move easier through more abrasive materials. This abrasion resistance decreases the rate of tool wear, prolonging tool life.
Concerns with Efficient Chip Evacuation
One of the primary functions of this coating is to increase the smoothness of the flutes of the tool, which allows for more efficient chip removal. By decreasing the amount of friction between the tool and the material, chips will not stick to the tool, helping to prevent chip packing. The increased lubricity and smoothness provided by the coating allows for a higher level of performance from the cutting tool. Zplus is also recommended for use in softer, gummy alloys, as the smooth surface encourages maximum lubricity within the material – this decreases the likelihood of those gummier chips sticking to the tool while machining.
Large Production Runs
Uncoated tools can work well in many forms of non-ferrous applications. However, to get a genuinely cost-effective tool for your job, the proper coating is highly recommended. Large production runs are known for putting a lot of wear and tear on tools due to their increased use, and by utilizing an appropriate coating, there can be a significant improvement in the tools working life.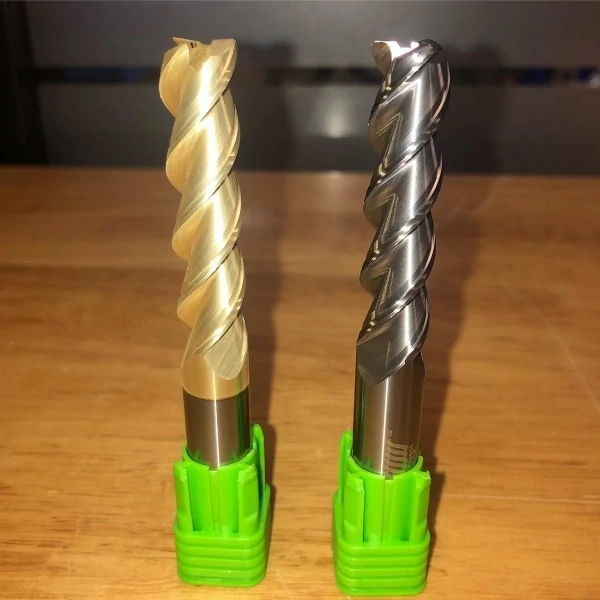 When is Zplus Coating Not Beneficial to My Application?
Finishing Applications
When your parts finish is vital to its final application, a machinist may want to consider going with an uncoated tool. As with any coating, ZrN will leave a very minor rounded edge on the tip of the cutting edge. The best finish often requires an extremely sharp tool, and an uncoated tool will have a sharper cutting edge than its coated version.
https://www.harveyperformance.com/wp-content/uploads/2019/04/Feature-Image-Zplus-Coatings-IMG.jpg
525
1400
Harvey Performance Company
http://www.harveyperformance.com/wp-content/uploads/2018/08/Logo_HarveyPerformanceCompany-4.png
Harvey Performance Company
2019-04-01 03:17:54
2023-10-24 10:53:44
What to Know About Helical Solution's Zplus Coating