Unlike most CNC cutting tools, Thread Forming Taps, otherwise known as Form Taps, Forming Taps, or Roll Taps, work by molding the workpiece rather than cutting it. Because of this, Form Taps do not contain any flutes, as there is no cutting action taking place, nor are there any chips to evacuate. Below are 8 unique facts of Thread Forming Taps (and some may surprise you).
1. Chips Aren't Formed
When using a Form Tap, chips are not formed, nor is any part material evacuated (Yes, you read that right). With thread forming, the tool is void of any flutes, as chip evacuation is not a concern. Form Taps quite literally mold the workpiece, rather than cut it, to produce threads. Material is displaced within a hole to make way for the threads being formed.
2. Cutting Oils Allow for Reduced Friction & Heat Generation
Did you know that Thread Forming Taps require good lubrication? But why is that the case if chips are not being evacuated, and how does lubrication enter the part with such a limited area between the tool and the perimeter of the hole being threaded? Despite the fact that chips aren't being formed or evacuated, cutting oils aid the Form Tap as it interacts with the part material, and reduces friction and heat generation. Lube vent grooves are narrow channels engineered into the side of Forming Taps that are designed to provide just enough room for lubricant to make its way into – and out of – a part.
3. Only Certain Materials Are Recommended for Thread Forming
Not all materials are well suited for Thread Forming Taps. In fact, attempting to use a tap in the wrong material can result in significant part and tool damage. The best materials for this unique type of operation include aluminum, brass, copper, 300 stainless steel, and leaded steel. In other words, any material that leaves a stringy chip is a good candidate for cold forming threads. Materials that leave a powdery chip, such as cast iron, are likely too brittle, resulting in ineffective, porous threads.
4. Threads Produced Are Stronger Than Conventional Tapping Threads
Thread forming produces much stronger threads than conventional tapping methods, due to the displacements of the grain of the metal in the workpiece. Further, cutting taps produce chips, which may interfere with the tapping process.
5. Chip Evacuation is Never a Concern With Thread Forming
In conventional tapping applications, as with most machining applications, chip evacuation is a concern. This is especially true in blind holes, or holes with a bottom, as chips created at the very bottom of the hole oftentimes have a long distance to travel before being efficiently evacuated. With form taps, however, chip removal is never a concern.
6. Form Taps Offer Extended Tool Life
Thread Forming Taps are incredibly efficient, as their tool life is substantial (Up to 20x longer than cutting taps), as they have no cutting edges to dull. Further, Thread Forms can be run at faster speeds (Up to 2x faster than Cutting Taps).
Pro Tip: To prolong tool life even further, opt for a coated tool. Titan USA Form Taps, for example, are fully stocked in both uncoated and TiN coated styles.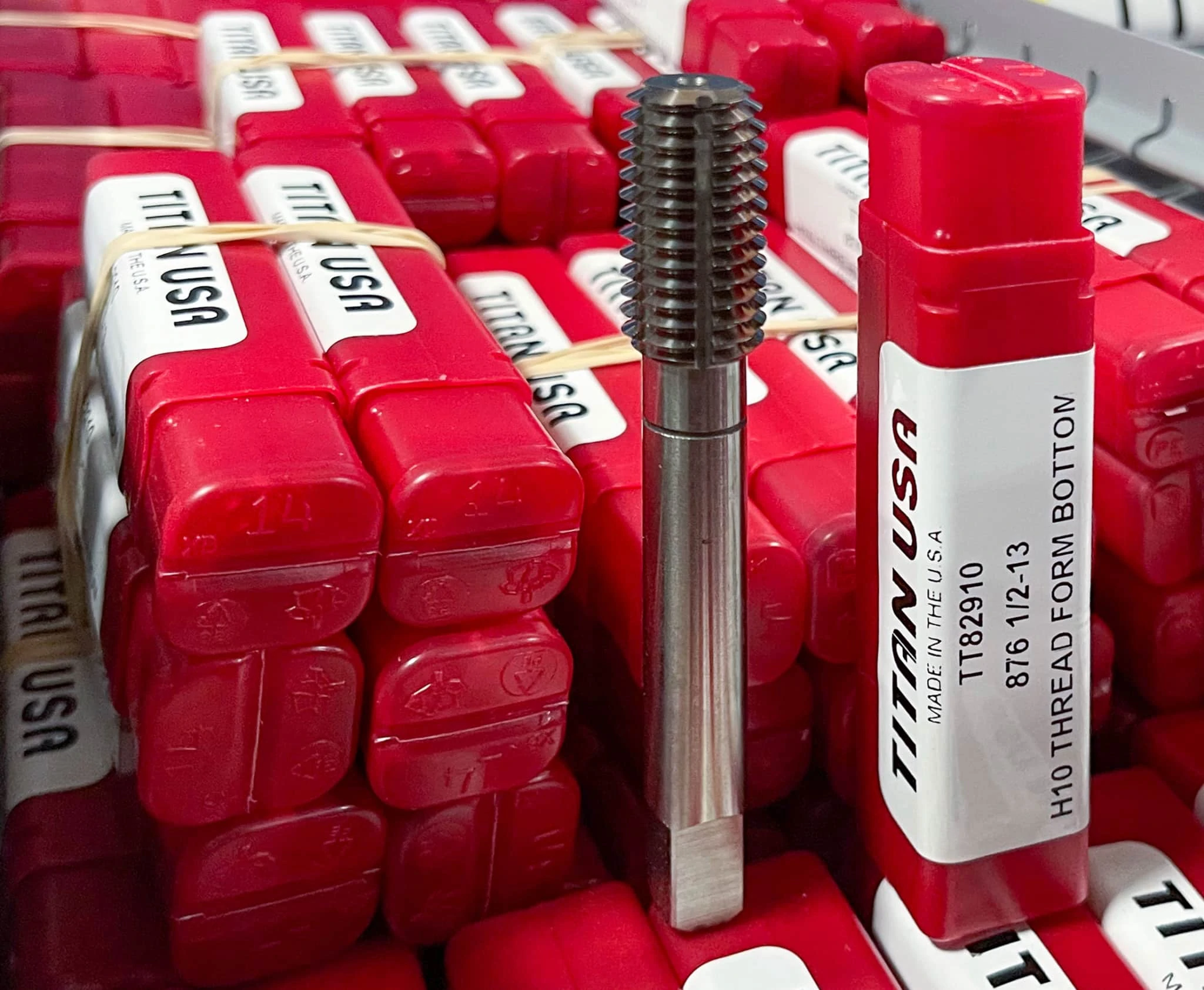 7. A Simple Formula Will Help You Find the Right Drill Size
When selecting a Tap, you must be familiar with the following formula, which will help a machinist determine the proper drill size needed for creating the starter hole, before a Thread Forming Tap is used to finish the application:
Drill Size = Major Diameter – [(0.0068 x desired % of thread) / Threads Per Inch]
Drill Size (mm) = Major Diameter – [(0.0068 x desired % of thread x pitch (mm)]
8. Thread Forming Taps Need a Larger Hole Size
Thread Form Taps require a larger pre-tap hole size than a cutting tap. This is because these tools impact the sides of the hole consistently during the thread forming process. If the pre-tap hole size is too small, the tool would have to work too hard to perform its job, resulting in excessive tool wear, torque, and possible breakage.
As an example, a ¼-20 cut tap requires a #7 drill size for the starter hole, whereas a ¼-20 roll tap requires a #1 drill size for 65% thread.
https://www.harveyperformance.com/wp-content/uploads/2021/05/Featured-Image-Thread-Forming-Taps-IMG.png
525
1400
Harvey Performance Company
http://www.harveyperformance.com/wp-content/uploads/2018/08/Logo_HarveyPerformanceCompany-4.png
Harvey Performance Company
2021-05-26 08:47:12
2023-09-25 13:54:35
8 Unique Facts About Thread Forming Taps