Drill / End Mills are one of the most versatile tools in a machinist's arsenal. These tools can perform a number of different operations, freeing space on your carousel and improving cycle times by limiting the need for tool changes. These operations include:
V-Grooving
Milling
The ability of the Drill / End Mill to cut along the angled tip as well as the outer diameter gives it the range of operations seen above and makes it an excellent multi-functional tool.
Drill Style vs. Mill Style
The main difference between Drill / End Mill styles is the point geometry. They are defined by how the flutes are designed on the end of the tool, using geometry typically seen on either an end mill or a drill. While mill style tools follow the features of an end mill or chamfer mill, the drill style geometry uses an S-gash at the tip. This lends strength to the tip of the tool, while giving it the ability to efficiently and accurately penetrate material axially. While both styles are capable of OD milling, mill style tools will be better for chamfering operations, while drill style will excel in drilling. The additional option of the Harvey Tool spiral tipped Drill / End Mill is an unprecedented design in the industry. This tool combines end geometry taken from our helical flute chamfer cutters with a variable helix on the OD for enhanced performance. Versatility without sacrificing finish and optimal performance is the result.

Drill Mills: Tool Offering
Harvey Tool currently offers Drill / End Mills in a variety of styles that can perform in different combinations of machining applications:
Mill Style – 2 Flute
This tool is designed for chamfering, milling, drilling non-ferrous materials, and light duty spotting. Drilling and spotting operations are recommended only for tools with an included angle greater than 60°. This is a general rule for all drill mills with a 60° point. Harvey Tool stocks five different angles of 2 flute mill-style Drill / End Mills, which include 60°, 82°, 90°, 100° and 120°. They are offered with an AlTiN coating on all sizes as well as a TiB2 coating for cutting aluminum with a 60° and 90° angle.

Mill Style – 4 Flute
4 flute mill-style Drill / End Mills have two flutes that come to center and two flutes that are cut back. This Drill / End Mill is designed for the same operations as the 2 flute style, but has a larger core in addition the higher flute count. The larger core gives the tool more strength and allows it to machine a harder range of materials. The additional flutes create more points of contact when machining, leading to better surface finish. AlTiN coating is offered on all 5 available angles (60°, 82°, 90°, 100°, and 120°) of this tool for great performance in a wide array of ferrous materials.

Drill Style – 2 Flute
This tool is specifically designed for the combination of milling, drilling, spotting and light duty chamfering applications in ferrous and non-ferrous materials. This line is offered with a 90°, 120°, and 140° included angle as well as AlTiN coating.
Helical Tip – 4 Flute
The Helically Tipped Drill / End Mill offers superior performance in chamfering, milling and light duty spotting operations. The spiral tip design allows for exceptional chip evacuation and surface finish. This combined with an OD variable helix design to reduce chatter and harmonics makes this a valuable tool in any machine shop. It is offered in 60°, 90°, and 120° included angles and comes standard with the latest generation AlTiN Nano coating that offers superior hardness and heat resistance.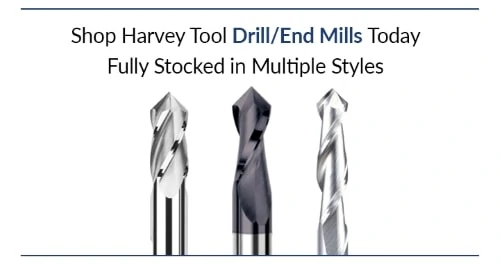 https://www.harveyperformance.com/wp-content/uploads/2018/06/Feature-Image-Drill-vs-Mill-Style-IMG.jpg
525
1400
Robert Keever
http://www.harveyperformance.com/wp-content/uploads/2018/08/Logo_HarveyPerformanceCompany-4.png
Robert Keever
2018-06-25 14:52:16
2021-11-05 09:51:33
Drill / End Mills: Drill Style vs. Mill Style