Selecting the Right Plastic Cutting End Mill
Many challenges can arise when machining different types of plastics. In the ever changing plastics industry, considerations for workholding, the melting point of your material, and any burrs that may potentially be created on the piece need to be examined prior to selecting a tool. Choosing the correct tool for your job and material is pivotal to avoid wasting time and money. Harvey Tool offers One, Two, and Three Flute Plastic Cutting End Mills with Upcut and Downcut Geometries. The following guide is intended to aid in the tool selection process to avoid common plastic cutting mistakes.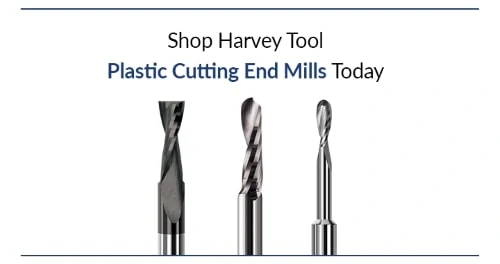 Choose Workholding Method
When it comes to workholding, not all plastic parts can be secured by clamps or vices. Depending on the material's properties, these workholding options may damage or deform the part. To circumnavigate this, vacuum tables or other weaker holding forces, such as double sided tape, are frequently used. Since these workholdings do not secure the part as tightly, lifting can become a problem if the wrong tool is used.
Downcut Plastic Cutting End Mills — tools with a left hand spiral, right hand cut — have downward axial forces that push chips down, preventing lifting and delamination. If an Upcut Plastic Cutting End Mill is required, then a tool with minimal upward forces should be chosen. The slower the cutter's helix, the less upward forces it will generate on the workpiece.
Determine Heat Tolerance
The amount of heat generated should always be considered prior to any machining processes, but this is especially the case while working in plastics. While machining plastics, heat must be removed from the contact area between the tool and the workpiece quickly and efficiently to avoid melting and chip welding.
If your plastic has a low melting point, a Single Flute Plastic Cutting End Mill is a good option. This tool has a larger flute valley than its two flute counterpart which allows for bigger chips. With a larger chip, more heat can be transferred away from the material without it melting.
For plastics with a higher heat tolerance, a Two or Three Flute Plastic Cutting End Mill can be utilized. Because it has more cutting edges and allows for higher removal rates, its tool life is extended.
Consider Finish Quality & Deburring
The polymer arrangement in plastics can cause many burrs if the proper tool is not selected. Parts that require hand-deburring offline after the machining process can drain shop resources. A sharp cutting edge is needed to ensure that the plastic is sheared cleanly, reducing the occurrence of burrs. Three Flute Plastic Cutting End Mills can reduce or eliminate the need to hand-deburr a part. These tools employ an improved cutting action and rigidity due to the higher flute count. Their specialized end geometry reduces the circular end marks that are left behind from traditional metal cutting end mills, leaving a cleaner finish with minimal burrs.
Flute Count Case Study
2 FLUTE PLASTIC CUTTER: A facing operation was performed in acrylic with a standard 2 Flute Plastic Cutting End Mill. The high rake, high relief design of the 2 flute tool increased chip removal rate, but also left distinct swirling patterns on the top of the workpiece.
3 FLUTE PLASTIC FINISHER: A facing operation was performed on a separate acrylic piece with a specialized 3 Flute Plastic Finisher End Mill. The specialized cutting end left minimal swirling marks and resulted in a smoother finish.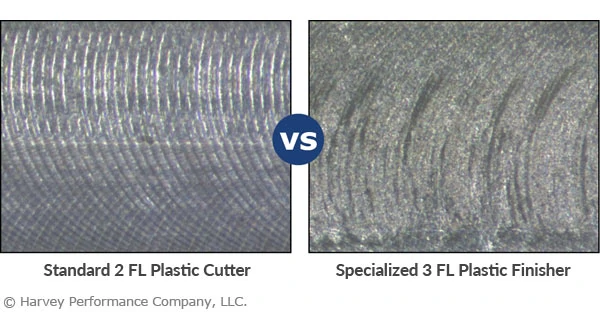 Identifying the potential problems of cutting a specific plastic is an important first step when choosing an appropriate plastic cutter. Deciding on the right tool can mean the difference between an excellent final product and a scrapped job. Harvey Tool's team of technical engineers is available to help answer any questions you might have about selecting the appropriate Plastic Cutting End Mill.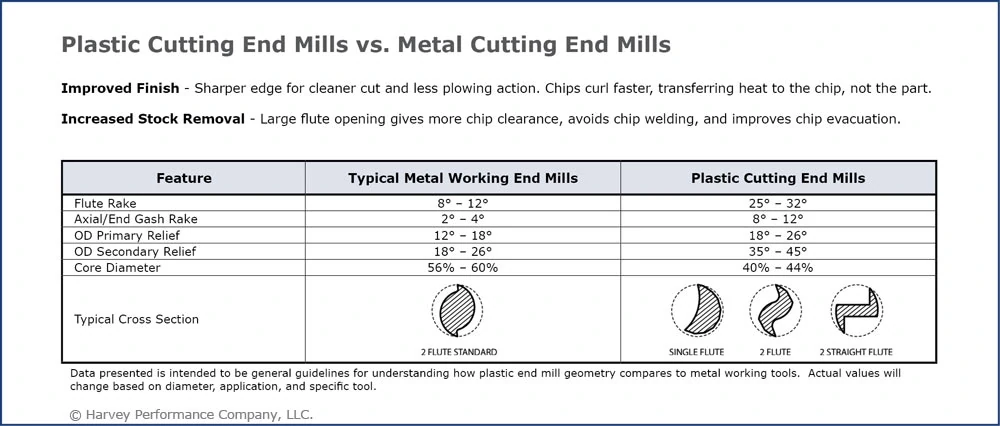 https://www.harveyperformance.com/wp-content/uploads/2017/04/Feature-Image-Plastic-Cutter-Selection-IMG.jpg
525
1400
Harvey Performance Company
http://www.harveyperformance.com/wp-content/uploads/2018/08/Logo_HarveyPerformanceCompany-4.png
Harvey Performance Company
2017-04-07 08:31:56
2023-09-21 13:29:01
Selecting the Right Plastic Cutting End Mill