Defiant CNC – Featured Customer
Featured Image Courtesy of Jeremy Taylor, Defiant CNC
Twenty years ago, Jeremy Taylor worked as a Tool and Die Apprentice and was well on his way to earning his Journeyman Certification, when he fell in with the wrong crowd and found himself in trouble, criminally. As a result, he found himself facing a lengthy prison sentence but was determined to make his time incarcerated as constructive as possible. During his sentence, he earned his undergraduate and MBA degrees, taught himself Spanish and Italian, and used his limited access to computers to stay updated on all things CNC machining, including the evolution of tool making and advanced manufacturing.
Today, Taylor owns Defiant CNC, a 2-year-old machine shop located in Orlando, Florida, that specializes in performing a wide variety of machining operations, including CNC Milling, CNC turning, laser engraving, finishing, quality control, CAM/CAD, inventory management, technical drawings, and ERP services. Defiant CNC machines everything from components for underwater welding robots to tools for helicopter repair kits, to even tools for pastry decorating and jewelry making.
Along with owning his business, Taylor also spends his time working with The Community, a company that focuses on preparing prisoners to reenter society.
We spoke with Taylor to learn more about how he changed his life's trajectory; his new business; the ERP system he built, himself; and what he values most in CNC tooling, among other topics.
How did you first get started in machining?
I started off as a Tool and Die Apprentice. I was making tremendous progress towards my Journeyman Certification until I got myself into trouble. I had done a great job of learning very sophisticated toolmaking techniques and CNC programming/machining. Unfortunately, when I was a few months away from obtaining my journeyman's card, I was incarcerated for 14 years. However, I utilized that time to significantly change my life trajectory. While in prison, I taught myself Spanish and Italian, kept as up to speed as I could (given very limited access to computers) on the evolution of tool making, CNC machining, advanced manufacturing, computer hardware, and software, completed both an undergraduate degree and an MBA via a mixture of mail and online access.
Today I am a completely different person than the one who wasted the great opportunities I had before my imprisonment. Somewhere along the line during the time when I was 18-19 or so, I fell in with the wrong people and took a path that led to me wasting what should have been the best years of my life. Rather than give up, I used that time while confined to continue my education and prepare myself for a productive role in society after my release. Getting back into machining played a huge role in my current success. Defiant CNC has only been in business for a little over two years, but the best is yet to come.
What machines are in your shop?
Defiant CNC currently has 4 mills: Doosan DNM 4500, Chevelier QP 2040, Toyoda Stealth 1365, and a Manual Bridgeport Mill. We use Fusion 360 on all of our milling machines. We also have 5 lathes: Emco Maier 365 Y, Miyano BND-51S, Miyano BND-20S5, Miyano BND-34S. and a Miyano BND-42S. Finally, we have our two support machines, a Cosen MH-1016JA Bandsaw and a Boss FMS Laser for Desktop Fiber Marking.
What industries have you worked with?
We have worked with a large variety of industries, including aerospace, defense, automotive, commercial, and medical. Working in these industries allows us to machine in all different materials: Aluminum (7075, 6061, and 2024), Stainless Steel (303, 304, and 316), and Steel (1018, 4140, and 1045).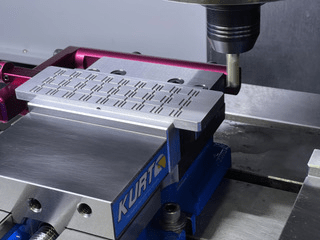 What sets Defiant CNC apart from the competition?
We provide an array of machining-related services including milling, turning, CAD design, engineering, and laser engraving in-house. We also provide a number of services through vetted partners such as heat treating, welding, and plating. However, what sets us apart from the rest of the competition is the Enterprise Resource Planning (ERP) system that I built, which is customized specifically for our shop. Not only does it allow us to streamline our operations, but it also allows us to give that something extra to our customers. I create portals and give our customers access to all their past and present jobs with us. They can check the status of any of their jobs as they move through the production process. We take just as much care managing every aspect of the business as we do machining parts.

Typically in small-to-medium-sized shops, the data structure is to create a series of customer-job-part revision folders, and put the customer data there. This data structure is rarely planned for growth. I created an Enterprise Resource Planning (ERP) system using Airtable, along with other API-friendly applications, because the software has Product Data Management (PDM) built into it. PDM is the architecture of the data storage system which, in a nutshell, is the organization, storage, and retrieval of any data that might be tied to a manufacturing process. Since Airtable has a built-in PDM system, we are able to store all our CAM files, G-code, setup documents, tool data (where we log important data about our Helical and Harvey tools), fixture data, and any other data that needs to be tied to a step for making a part. We now have a place to bring together product data (images, instructions, inventory, links, etc), customer information (CRM data), data on sales, marketing development and deployment, a schedule, and more, all in one place. All of the integrations and automations that I built saves hours of manual work and prevents a multitude of mistakes.
What is your favorite job you have worked on?
I just finished a production run on a job where I completed 12 pieces of two different parts out of hardened 17-4 stainless from start to finish. The cycle time was just over four hours. Each part required three operations after the stock was sawed and heat treated. I designed, modeled, and made two sets of fixtures for each operation in order to load one set while the other was being machined.
When have Harvey or Helical products helped your business?
A majority of the endmills that we stock are Harvey Tool and Helical products. We utilize Fusion 360, which has a tool library full of Harvey Tool and Helical products. About a week ago, we purchased some Harvey Tool flat bottom endmills which saved substantial time on a large production run because we no longer had to circular interpolate a hole. Whenever we are in a pinch and need a tool quickly, Helical Solutions and Harvey Tool always come through.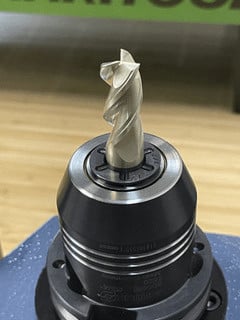 Why is high quality tooling important to you?
High quality tools allow us to spend more time machining and less time changing tools. Our go-to tool is Helical's 3 flute – 40-degree helix with ZPlus, whether we need 1/8 end mills or 5/8 endmills, they get the job done.
What advice do you have for others who want to try High Efficiency Milling?
Consider the material that you are cutting. Consult with your tooling vendor and/or documentation on their website to obtain a starting point and go from there. Helical Solutions has great information on their website and on their social media accounts, with regard to their products. It is worth consulting these sources when utilizing their tools.
If you could give one piece of advice to a new machinist ready to take the #PlungeIntoMachining, what would it be?
Learning needs to be continuous. Don't just expect to learn everything that you need to know in one place. Constantly increment your skills in every aspect of machining.
Is there anything else you would like to share with the "In The Loupe" community?
I am grateful for the opportunity to talk about my experiences with Harvey Tool and Helical products and my business. I use Harvey Tool and Helical products because they work well. I will continue to document my usage of their products on my website DefiantCNC.com, as well as my company's social media accounts (@defiantcnc on Instagram, LinkedIn, and Facebook). Be sure to check them out.
https://www.harveyperformance.com/wp-content/uploads/2021/03/FeaturedOverlays-NEW.jpg
600
1599
Guy Petrillo
http://www.harveyperformance.com/wp-content/uploads/2018/08/Logo_HarveyPerformanceCompany-4.png
Guy Petrillo
2021-03-30 09:14:24
2021-07-22 08:58:57
Defiant CNC – Featured Customer