The 3 Critical Factors of Turning Speeds and Feeds
Many factors come into play when determining a proper turning speeds and feeds and depth of cut strategy for turning operations. While three of these factors – the ones we deemed to be among the most critical – are listed below, please note that there are many other considerations that are not listed, but that are also important. For instance, safety should always be the main focus of any machining operation, as improper cutting tool parameters can test a machine's limits, resulting in an accident that can potentially cause significant bodily harm.
Machine condition, type, capabilities, and set-up are all significantly important to an overall successful turning operation, as is turning tool and holder selection.
Turning Speeds and Feeds Factor 1: Machine Condition
The condition of your machine should always be considered prior to beginning a machining operation on a lathe. Older machines that have been used for production operations where hard or abrasive materials are machined tend to have a large amount of backlash, or wear, on the machine's mechanical parts. This can cause it to produce less than optimal result and may require that a tooling manufacturer's recommended speeds and feeds parameters need to be dialed back a bit, as to not run the machine more aggressively than it can handle.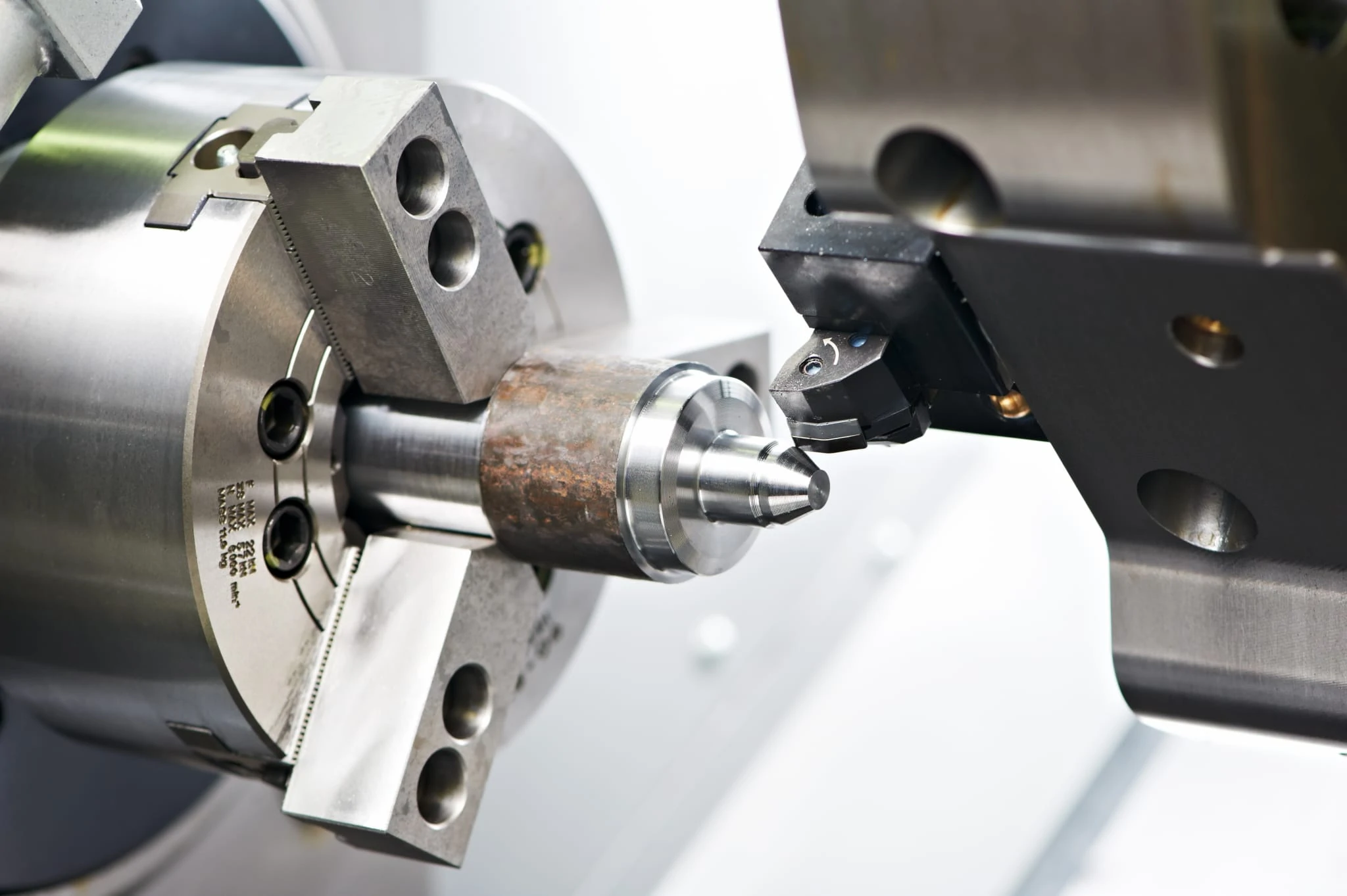 Factor 2: Machine Type and Capabilities
Before dialing in turning speeds and feeds, one must understand their machine type and its capabilities. Machines are programmed differently, depending on the type of turning center being used: CNC Lathe or Manual Lathe.
CNC Lathe Turning Centers
With this type of machine, the part and tool have the ability to be set in motion.
CNC lathe turning centers can be programmed as a G96 (constant surface footage) or G97 (constant RPM). With this type of machine, the maximum allowable RPM can be programmed using a G50 with an S command. For example, inputting a G50 S3000 into your CNC program would limit the maximum RPM to 3,000. Further, with CNC Lathe Turning Centers, the feed rate is programmable and can be changed at different positions or locations within a part program.
Manual Lathe Turning Centers
With this type of machine, only the part is in motion, while the tool remains immobile.
For manual lathe turning centers, parameters are programmed a bit differently. Here, the spindle speed is set at a constant RPM, and normally remains unchanged throughout the machining operation. Obviously, this puts more onus on a machinist to get speed correct, as an operation can quickly be derailed if RPM parameters are not optimal for a job. Like with CNC lathe turning centers, though, understanding your machine's horsepower and maximum feed rate is critical.
Factor 3: Machine Set-Up
Machining Conditions
When factoring in your machine set-up, machining conditions must be considered. Below are some ideal conditions to strive for, as well as some suboptimal machining conditions to avoid for dialing in proper turning speeds and feeds.
Ideal Machining Conditions for Turning Applications
The workpiece clamping or fixture is in optimal condition, and the workpiece overhang is minimized to improve rigidity.
Coolant delivery systems are in place to aid in the evacuation of chips from a part and help control heat generation.
Suboptimal Machining Conditions for Turning Applications
Utilizing turning tools that are extended for reach purposes, when not necessary, causing an increased amount of tool deflection and sacrificing the rigidity of the machining operations.
The workpiece clamping or fixturing is aged, ineffective, and in poor condition.
Coolant delivery systems are missing, or are ineffective
Machine does not feature any guarding or enclosures, resulting in safety concerns.
Cutting Tool & Tool Holder Selection
As is always the case, cutting tool and tool holder selection are pivotal. Not all turning tool manufacturers are the same, either. The best machinists develop longstanding relationships with tooling manufacturers, and are able to depend on their input and recommendations. Micro 100, for example, has manufactured the industry's highest quality turning tools for more than 50 years. Further, its tool holder offering includes multiple unique styles, allowing machinists to determine the product that's best for them.
Pro Tip: Be sure to take into consideration the machine's horsepower and maximum feed rate when determining running parameters.

Bonus: Common Turning Speeds and Feeds Application Terminology
Vc= Cutting Speed
n= Spindle Speed
Ap=Depth of Cut
Q= Metal Removal Rate
G94 Feedrate IPM (Inches Per Minute)
G95 Feedrate IPR (Inches Per Revolution)
G96 CSS (Constant Surface Speed)
G97 Constant RPM (Revolutions Per Minute)
https://www.harveyperformance.com/wp-content/uploads/2021/05/turning-speeds.jpg
370
987
Harvey Performance Company
http://www.harveyperformance.com/wp-content/uploads/2018/08/Logo_HarveyPerformanceCompany-4.png
Harvey Performance Company
2021-05-13 15:54:58
2023-09-27 10:45:04
The 3 Critical Factors of Turning Speeds and Feeds