Introduction to High Efficiency Milling
The following is just one of several blog posts relevant to High Efficiency Milling. To achieve a full understanding of this popular machining method, view any of the additional HEM posts below!
High Speed Machining vs. HEM I How to Combat Chip Thinning I Diving into Depth of Cut I How to Avoid 4 Major Types of Tool Wear I Intro to Trochoidal Milling
---
High Efficiency Milling (HEM) is a strategy that is rapidly gaining popularity in the metalworking industry. Most CAM packages now offer modules to generate HEM toolpaths, each with their own proprietary name. In these packages, HEM can also be known as Dynamic Milling or High Efficiency Machining, among others. HEM can result in profound shop efficiency, extended tool life, greater performance, and cost savings. High performance end mills designed to achieve higher speeds and feeds will help machinists to reap the full benefits of this popular machining method.
High Efficiency Milling Defined
HEM is a milling technique for roughing that utilizes a lower Radial Depth of Cut (RDOC) and a higher Axial Depth of Cut (ADOC). This spreads wear evenly across the cutting edge, dissipates heat, and reduces the chance of tool failure.
This strategy differs from traditional or conventional milling, which typically calls for a higher RDOC and lower ADOC. Traditional milling causes heat concentrations in one small portion of the cutting tool, expediting the tool wear process. Further, while Traditional Milling call for more axial passes, HEM toolpaths use more passes radially.
For more information on optimizing Depth of Cut in relation to HEM, see Diving into Depth of Cut: Peripheral, Slotting & HEM Approaches.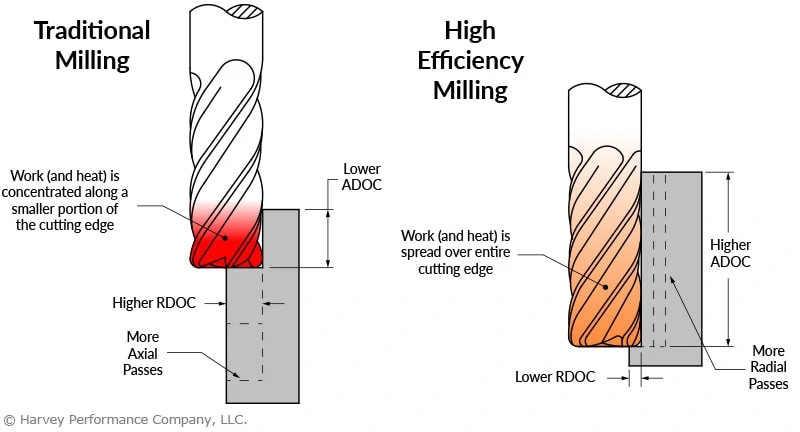 Built-In CAM Applications
Machining technology has been advancing with the development of faster, more powerful machines. In order to keep up, many CAM applications have developed built-in features for HEM toolpaths, including Trochoidal Milling, a method of machining used to create a slot wider than the cutting tool's cutting diameter.
HEM is largely based on the theory surrounding Radial Chip Thinning, or the phenomenon that occurs with varying RDOC, and relates to the chip thickness and feed per tooth. HEM adjusts parameters to maintain a constant load on the tool through the entire roughing operation, resulting in more aggressive material removal rates (MRR). In this way, HEM differs from other high performance toolpaths, which involve different methods for achieving significant MRR.
Virtually any CNC machine can perform HEM – the key is a fast CNC controller. When converting from a regular program to HEM, about 20 lines of HEM code will be written for every line of regular code. A fast processor is needed to look ahead for the code, and keep up with the operation. In addition, advanced CAM software that intelligently manages tool load by adjusting the IPT and RDOC is also needed.
High Efficiency Milling Case Studies
The following example shows the result a machinist had when using a Helical Solutions HEV-5 tool to perform an HEM operation in 17-4PH stainless steel. While performing HEM, this ½" diameter, 5-flute end mill engaged the part just 12% radially, but 100% axially. This machinist was able to reduce tool wear and was able to complete 40 parts with a single tool, versus only 15 with a traditional roughing toolpath.

The effect of HEM on a roughing application can also be seen in the case study below. While machining 6061 aluminum with Helical's H45AL-C-3, a 1/2″, 3-flute rougher, this machinist was able to finish a part in 3 minutes, versus 11 minutes with a traditional roughing toolpath. One tool was able to make 900 parts with HEM, a boost of more than 150% over the traditional method.

Importance of Tooling to HEM
Generally speaking, HEM is a matter of running the tool – not the tool itself. Virtually every tool can perform HEM, but using tooling built to withstand the rigors of HEM will result in greater success. While you can run a marathon in any type of shoes, you'd likely get the best results and performance from running shoes.
HEM is often regarded as a machining method for larger diameter tooling because of the aggressive MRR of the operation and the fragility of tooling under 1/8" in size. However, miniature tooling can be used to achieve HEM, too.
Using miniature tooling for HEM can create additional challenges that must be understood prior to beginning your operation.
Best Tools for HEM:
High flute count for increased MRR.
Large core diameter for added strength.
Tool coating optimized for the workpiece material for increased lubricity.
Variable Pitch/Variable Helix design for reduced harmonics.
Key Takeaways
HEM is a machining operation which continues to grow in popularity in shops worldwide. A milling technique for roughing that utilizes a lower RDOC and higher ADOC than traditional milling, HEM distributes wear evenly across the cutting edge of a tool, reducing heat concentrations and slowing the rate of tool wear. This is especially true in tooling best suited to promote the benefits of HEM.
https://www.harveyperformance.com/wp-content/uploads/2017/08/Featured-Image-Intro-to-HEM-IMG.jpg
525
1400
Harvey Performance Company
http://www.harveyperformance.com/wp-content/uploads/2018/08/Logo_HarveyPerformanceCompany-4.png
Harvey Performance Company
2017-08-11 15:33:26
2023-10-12 09:12:44
Introduction to High Efficiency Milling