Olson Manufacturing – Featured Customer
Featured Image Courtesy of Logan Olson, Olson Manufacturing
Located in northern California, Olson Manufacturing specializes in handcrafted, customizable golf products that are made with utmost attention to detail from the highest quality materials. Logan Olson, its owner, was introduced to the game of golf by his grandparents at a young age and fell in love with the sport, especially how individualized it is, and how one's own effort and dedication is paramount. It is because of this love of golf that Logan began designing, and making, his own putters. Soon after, Olson Machining was born.
Now with years under his belt, Logan took time to reflect about Olson Manufacturing, his passion for golf, high-quality tooling, and where his inspiration for his designs originated.
How did you get started and learn how to machine?
I got started in manufacturing coincidentally with making putters: A project that went from a solely digital design to learning a CAD program. It turned into something I wanted to bring into tangible space. A friend of mine introduced me to a manual machinist that had a small machine shop at his house. He had just purchased a personal hobby-sized CNC machine and was kind enough to let me hobble my way through learning the fundamentals of machining on it to design a putter. A year later, I held a barely recognizable chattery mess of a putter and my journey was just beginning.
Where does your passion for golf come from?
I was introduced to the game of golf early on by my grandparents. The individual nature of the game, surrounded by the need to depend on your own effort and dedication as a means to success, has really paved the way for me as a business owner. The need for honesty and integrity, even when it might be easier to take the other road out, has allowed me to stick through the challenging aspects of creating a machine shop and allow my business to thrive in this fast pace, ever-changing world.
What is the inspiration in your designs?
From a design aspect, my number one priority is to do my absolute best to execute the task of creating the best putter I can for the end-user. Customization, additional design aspects, as well as other details, are a welcome addition to a putter that will perform at the highest level. When it comes to the design of creating a custom build, I try to forget that the piece I am working on is a putter altogether and pull my inspiration from other places and different crafts.
It's always fun when people ask what I do as a machinist to tell them I make golf clubs. There's always a hesitant humorous laugh as they respond with an, "oh that's nice, or good for you". That always seems to change as soon as I show them what I actually make. The following response is usually more on the stream of "you seriously make these, or wow, that's not at all what I expected." The detailed craftsmanship of sword makers, clockmakers, and jewelers is where I try to pull my main inspiration from.
I do a lot of commissioned work for customers ordering a specific putter that they themselves design, however, I think my true voice as an artist and machinist lies with the putters I make where the designs can flow out of my own imagination with no guidelines or restrictions.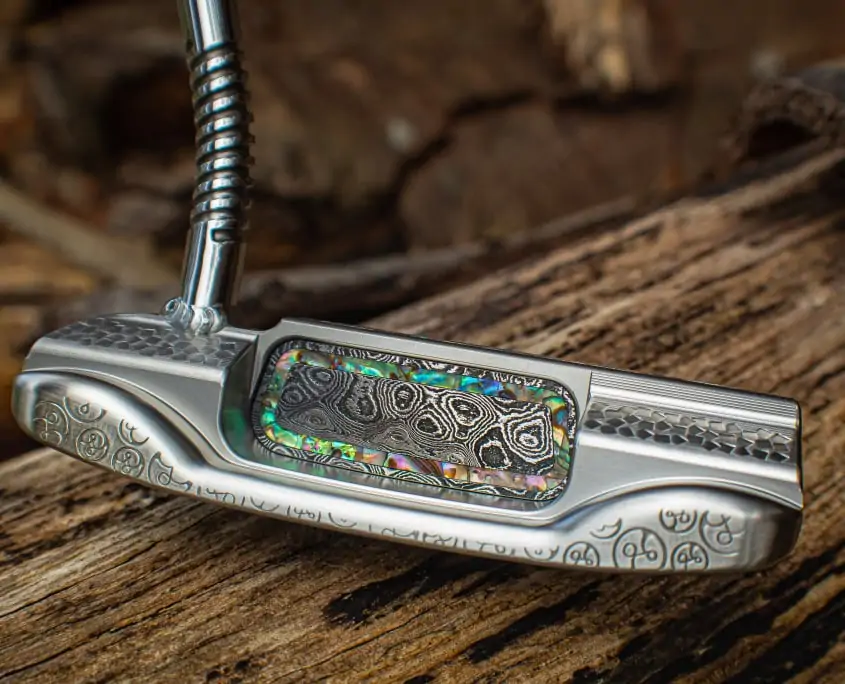 What is your favorite putter you've designed?
I've had the opportunity to create a ton of really cool and unique projects in my years as a putter maker. It's really hard to pick out a favorite. I try to say that my favorite putter I've ever made is the one I'm currently working on or excited about. I could probably make a list of the top 20 maybe, but picking an individualistic favorite would be tough.
Who is the most famous contact that you have worked on a project with?
I've been lucky enough to work with a handful of professionals on the PGA tour as well as the LPA tour and Web.com tours. Feedback from this caliber of players is really the driving force of development for what I do. They can offer some of the most keynotes that help drive changes every year. I have a hard time picking apart a favorite project, but every time a professional golfer comes aboard I always seem to learn something new.
What sets Olson Manufacturing apart from the competition?
In a world where mass production and system efficiency control the consumer market, utilizing old world craftsmanship in companion with cutting edge technology, I can create one of a kind personalized and unique products. That's not a touch you can find buying something off of a shelf. Knowing that only 1 pair of hands might have spent hours, days, even weeks just creating a putter, I think is something a person holds value to once they acquire one of my putters.
What machines do you currently have in your shop and what materials are you machining?
I use all vertical mills at my shop. With the exception of one of my largest machines, having a 4th axis. Everything I run is all 3 axis machining. I really cut everything under the sun. The bulk of my machining consists of stainless steel, mild alloy carbon steel, and aluminum, for fixture making. However, with that said, I do a very large amount of copper as well. The bulk majority of my inlay work is done in superalloys and some exotic blends such as Zirconium-Titanium alloys, Titanium Damascus (Timascus), pre-hardened high carbon Damascus steels, mother of pearl, bronze, and a handful of other materials.
Why is high quality tool performance important to you?
When I'm working in an environment where the part I am making is a one-shot kind of deal or the material is incredibly hard to get/ expensive, not having the ability to remake the part is why customer support and applications engineers are indispensable. When you're off purchasing a cheap tool from an unknown company you are unlikely to be able to pick up the phone and say "hey, I've got a .030" tool going 1" deep in titanium, this tool can't break haha can you help me out?"
I can count back just in the last year at least a dozen times I've spoken with a Harvey Tool rep on one of my micro tools for a cutting recipe recommendation for an application that kept me out of the dog house. I think we could all talk about coating, cutting life, and tool performance all day long, but I could argue that being able to make a phone call and have an engineer reassure you something will work, is the most important thing of all when it comes to quality tool performance.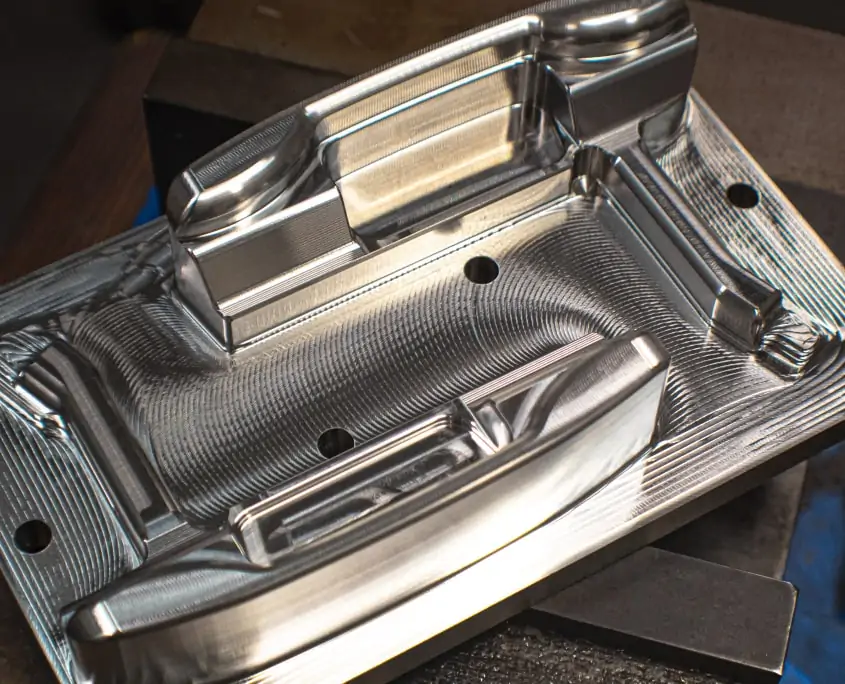 What is the smallest Harvey tool you have used and the largest Helical tool?
I've used a .02" diameter 3 flute tool for stainless and carbon steel, which would likely be the smallest. I regularly store a .04" tool in my tool changer for pocketing on small inlay work. I used to be scared to sneeze on them in fear of them breaking, now they're as dependable as any tool in my library and I require them daily for all kinds of machine work. The largest tool I run from Helical is a 6 flute ½" endmill for HEM roughing. I find that's really as large as I need to go.
If heavier cutting is necessary I'll lean on an insert tool. I really think some people would be amazed though, at the MRR you can get with a ½" tool. These modern toolpaths are incredibly powerful in comparison to some of the older style machining strategies. Give me a ½" tool in stainless full depth at 250 inches a minute and I can move some metal.
Can you talk about a time that Harvey Tool or Helical products really came through and helped your business?
This would go back to one of my earlier answers for the customer support argument. I was running a billet of pre-hardened Damascus steel for a putter I was making. I don't know if you're familiar with Damascus at all, but if you picture high carbon steel blended, smashed, and forged together with a nickel alloy, then hardened, I think you can paint a picture. Oh yeah, and nickel alloys are famously fun to machine… think Inconel, Monel, and Hastelloy… fun stuff. So take that billet and make a putter out of it haha.
Anyways, this stuff is harder than a coffin nail and is eating my 80 dollar endmills for breakfast like it skipped dinner the night before. I was down to my last ½" tool that could do the machine work on this putter and didn't know what I was going to do. I called up Helical, and an applications engineer not only gave me a recipe that ended up saving me but sent me the skew for a tool that worked way better than the one I had in the spindle. I ordered a package of them, and ever since that day, they are my go-to in Damascus.
If you could give one piece of advice to a new machinist ready to take the #PlungeIntoMachining, what would it be?
My biggest piece of advice would be to learn as much as you can. In today's world, the internet is an incredibly powerful tool and platform for the machining community. There is basically a video out there somewhere you can watch that can probably answer any question you might have. It's insane. I'm 24 years old and started as a machinist at 19-20. There is absolutely no way I could have gotten to where I am today without countless hours of YouTube scrolling and video binge-watching. It's great stuff and you should soak it in like a sponge as fast as you can. 30 years ago the machinists would look at the stuff we are doing today and call it Wizardry. We truly are living in an incredible time. Live, learn and love what you do.
To see more of Logan and Olson Manufacturing, you can follow him on Instagram @olsonmfg
https://www.harveyperformance.com/wp-content/uploads/2021/06/FeaturedImage-1.jpg
600
1599
Guy Petrillo
http://www.harveyperformance.com/wp-content/uploads/2018/08/Logo_HarveyPerformanceCompany-4.png
Guy Petrillo
2021-07-02 10:53:25
2021-11-19 09:37:25
Olson Manufacturing – Featured Customer