Optimize Roughing With Chipbreaker Tooling
Chipbreaker End Mills feature unique notch profiles, creating a serrated cutting edge. These dividers break otherwise long, stringy chips into small, easily-managed swarf that can be cleanly evacuated from the part. But why is a chipbreaker necessary for some jobs, and not others? How does the geometry of this unique tool impact its proper running parameters? In this post, we'll answer these questions and others to discover the very real benefits of this unique cutting geometry.
How Chipbreaker Tooling Works
As a tool rotates and its cutting edge impacts a workpiece, material is sheared off from a part, creating chips. When that cutting process is interrupted, as is the case with breaks in the cutting portion of the tool, chips become smaller in length and are thus easier to evacuate. Because the chipbreakers are offset flute-to-flute, a proper, flat surface finish is achieved as each flute cleans up any excess material left behind from previously passed flutes.
Benefits of Chipbreaker Tooling
Machining Efficiency
When chips are removed from the part, they begin to pile in the machine. For extensive operations, where a great deal of material is hogged out, chip accumulation can very rapidly get in the way of the spindle or part. With larger chips, accumulation occurs much faster, leaving machinists to stop their machine regularly to remove the waste. As any machinist knows, a stopped machine equates to lost money.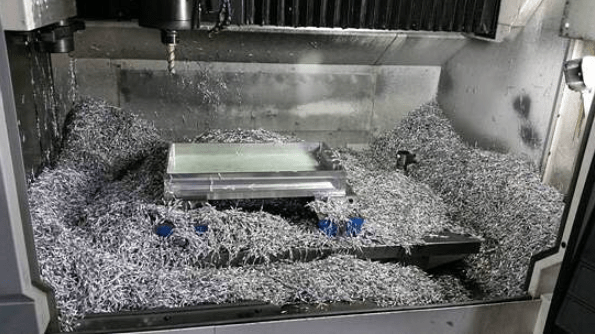 Prolonged Tool Life
Inefficient chip evacuation can lead to chip recutting, or when the the tool impacts and cuts chips left behind during the machining process. This adds stresses on the tool and accelerates rate of wear on the cutting edge. Chipbreaker tooling creates small chips that are easily evacuated from a part, thus minimizing the risk of recutting.
Accelerated Running Parameters
A Harvey Performance Company Application Engineer recently observed the power of a chipbreaker tool firsthand while visiting a customer's shop in Minnesota. The customer was roughing a great amount of 4340 Steel. Running at the parameters below, the tool was able to run uninterrupted for two hours!
| | |
| --- | --- |
| Helical Part No. | 33737 |
| Material | 4340 Steel |
| ADOC | 2.545″ |
| RDOC | .125″ |
| Speed | 2,800 RPM |
| Feed | 78 IPM |
| Material Removal Rate | 24.8 Cubic In/Min |
Chipbreaker Product Offering
Chipbreaker geometry is well suited for materials that leave a long chip. Materials that produce a powdery chip, such as graphite, should not be machined with a chipbreaker tool, as chip evacuation would not be a concern. Helical Solutions' line of chipbreaker tooling includes a 3-flute option for aluminum and non-ferrous materials, and its reduced neck counterpart. Additionally, Helical offers a 4-flute rougher with chipbreaker geometry for high-temp alloys and titanium. Harvey Tool's expansive product offering includes a composite cutting end mill with chipbreaker geometry.
In Summary
Chipbreaker geometry, or grooves within the cutting face of the tool, break down chips into small, manageable pieces during the machining process. This geometry can boost shop efficiency by minimizing machine downtime to clear large chips from the machining center, improve tool life by minimizing cutting forces exerted on the tool during machining, and allow for more accelerated running parameters.
https://www.harveyperformance.com/wp-content/uploads/2017/10/Feature-Image-Chipbreaker-Tooling-IMG.jpg
600
1599
Harvey Performance Company
http://www.harveyperformance.com/wp-content/uploads/2018/08/Logo_HarveyPerformanceCompany-4.png
Harvey Performance Company
2017-10-24 16:52:13
2021-11-19 08:46:50
Optimize Roughing With Chipbreaker Tooling