R & S Machining – Featured Customer
Featured Image Courtesy of R & S Machining
Located in St. Louis, Missouri, R & S Machining specializes in 4 & 5 axis machining and manufacturing of aerospace components. Since R & S was founded in 1992, they have instilled a spirit of hard work and determination to exceed customer expectations. Equipped with up-to-date machines and automation, R & S Machining has high-quality equipment to keep them as efficient as possible to stay ahead of the competition. The highly skilled men and women operating the manufacturing facility are committed to a high quality standard to meet all customer requirements. Because of this commitment, R & S Machining has been able to expand its facilities in the past four years by more than 225,000 square feet.
We were able to get in touch with Matthew Roderick, the lead programmer for R & S Machining. Matthew took some time out of his busy schedule to answer some questions about R & S Machining, and how the company continues to grow.
Can you tell us a little about R & S Machining?
R & S Machining is dedicated to continual improvement and growth. We strive to buy very high quality machines and tooling. We also equip most of our machines with automation. Whether it is a bar feeder, pallet changer, FMS, or robot, nearly all our machines have some form of automation to increase our lights out production. In the past 4 years, we have built a new facility and purchased a new facility. We have grown by more than 225,000 square feet and 35 employees in this timespan. With the backing of our ownership, continued success and relationships with our customers, very dedicated employees, and high-quality reliable manufacturing equipment, we are in a league of our own and continue to strive towards our goal of becoming the powerhouse manufacturing company of the Midwest.
R & S Machining currently uses Hermie, Okuma, Makino, and Kenichi machines in the facility, while utilizing CAM/CAD software such as Siemens NX, Catia, and Mastercam.
How did R & S get into Aerospace and Defense Manufacturing?
Our president worked at Boeing for 10 years. When he left to start his own company, we were given an opportunity with the Boeing Company to manufacture aerospace and defense components based on the quality of work that our President produced during his time with them. We continued to produce high quality products with an emphasis on on-time delivery and the rest is history.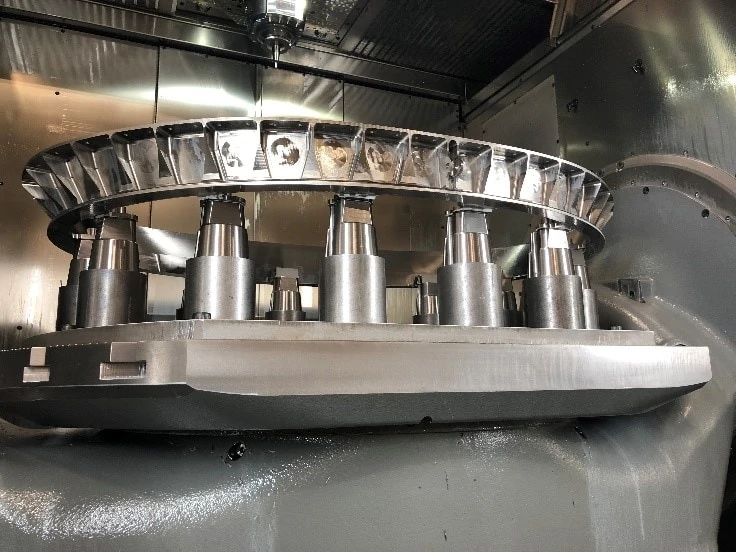 What sets R & S apart from the rest of the competitors?
We take on all the work that our competitors no quote or refuse to do. The complexity of parts that flow through this shop is like no other place. We believe there is no other company that can produce the complexity level of parts that we make in the time frames we are given by our customers.
Customer satisfaction is maintained through effectively applying the quality system. Continued training and process review enable R & S Machining to meet customers' ever-changing requirements.
What is your favorite project you have had come through the shop?
We manufacture Inlet Ducts for a variety of Fighter Jets. The complexity of these parts is unmatched and the creativity in programming the parts in the CAM system has to be at its peak. Some of these parts require programs of 600+ toolpaths with a majority of them being full 5axis simultaneous paths. Then, when you get to see the machine throwing a 1,100 pound block around like it's nothing at 2000 IPM in full 5axis simultaneous motion, it's pretty humbling.
What is your connection with the Missouri SkillsUSA Competition?
SkillsUSA is a nonprofit national education association that serves middle school, high school, and college/postsecondary students preparing for careers in trade, technical, and skilled service (including health) occupations. SkillsUSA's mission is to empower its members to become world class workers, leaders, and responsible American citizens. It emphasizes total quality at work—high ethical standards, superior work skills, lifelong education, and pride in the dignity of work.
Over the past 4 years, we have had many of our employees participate and win in the competition. We have had 5 employees win the district championship, 5 employees win the state championship, and 3 employees win the national championship.
Why is high quality tool performance important to you?
We rely on high quality tool performance to meet the tolerancing demands of our customers. Our tolerances range from hole tolerances of +.002″/-.001″, thickness tolerances of +-.01″, profile tolerances of .03″, critical hole tolerances of +-.0002″, and critical hole true position tolerances of .007″. We also rely heavily on lights-out run time overnight, so having a high quality tool that you know is still going to be cutting effectively in the morning and throughout the night is critical to our operation.
We had a 50+ quantity stainless steel job that we were only getting 2-3 parts per tool using tools from a different manufacturer. We changed our tool to a Helical endmill and left everything else the same and made over 30 parts before having to change out the tool.
If you could give one piece of advice to a new machinist ready to take the #PlungeIntoMachining, what would it be?
There are tons of cool and flashy things out there, but you can not skip the fundamentals. They are the building block to your entire career and they are the concepts you will use every single day. Use the technology to further your skills, not the basis of your skills. At the end of the day, you always have to know feeds and speeds, depth of cuts, work holding, and what you can get away with.
Is there anything else you would like to share with the In The Loupe community?
Helical tooling is unmatched in the HEM hard metal category. These tools have changed the way we manufacture parts and give us the confidence we need to accomplish our high precision and complex parts.
If you want to see what is next for R & S Machining or reach out and ask them some questions, you can follow them on Instagram @randsmachine.
https://www.harveyperformance.com/wp-content/uploads/2021/04/Featured-Image.jpg
600
1599
Guy Petrillo
http://www.harveyperformance.com/wp-content/uploads/2018/08/Logo_HarveyPerformanceCompany-4.png
Guy Petrillo
2021-04-29 16:09:08
2021-07-22 08:57:21
R & S Machining – Featured Customer