An Introduction to Reamers & CNC Reaming
Most machinists are familiar with CNC drilling, but did you know that the common practice for holemaking is to always use a reamer? When done correctly, reaming can be a fast and highly accurate operation that results in precision holes.
Critical Reamer Geometries

By examining a Harvey Tool Miniature Reamer and its critical dimensions, we can better understand the functionality of this useful tool. In the above image of a straight flute reamer, D1 references the reamer diameter, the specific size intended for your hole; and D2 points to the shank diameter. At Harvey Tool, reamer shanks are oversized to help maintain tool strength, stiffness, and accuracy. Shanks also have an h6 tolerance, which is crucial for high precision tool holders, such as heat shrink collets. Other critical dimensions of a reamer include its overall length (L1), margin length (L2), overall reach (L3), and chamfer length (L4).
Harvey Tool also offers Miniature Reamers – Right Hand Spiral. This tool is designed to leave a superior part finish and help with chip evacuation in blind hole applications.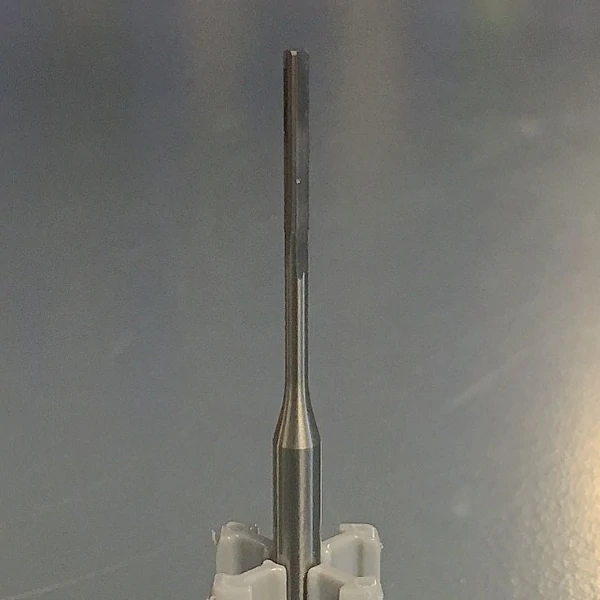 The Functions of Miniature Reamers
Reamers Provide Precision – As mentioned earlier, reamers are great for machining precision hole diameters. To use a reamer properly, you must first have a pre-drilled hole that's between 90% and 94% of the final hole diameter. For example, if you need a finished a hole of .220″, your predrilled hole should be somewhere between .1980″ and .2068″. This allows the tool to take enough material off to leave a great finish, but does not overwork it, potentially causing damage. The tolerance for uncoated reamers is +.0000″/-.0002″, while the tolerance for AlTiN coating is +.0002″/-.0000″. These tolerances provide you the peace of mind of knowing that your hole will meet exact specifications.
Achieve a Quality CNC Finish – When a high surface finish is required of a hole, reamers should always be used to reach the desired tolerance. Both the pre-drilled hole and the tool's margin help to keep the reamer centered while cutting, leading to a better finish.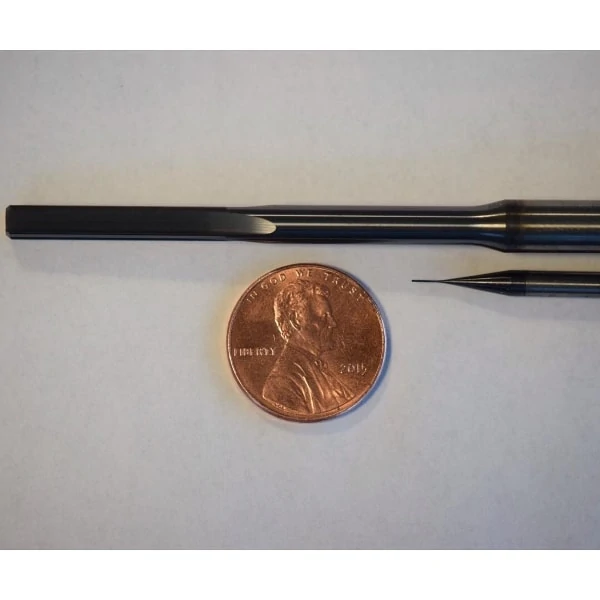 Minimize Machining Production Runs – For machine shops, consistency is a priority. This is especially true in production runs. The last thing a machinist wants to see is an oversized hole on a part they have already preformed many operations on. Remember, reamers have the benefit of offering consistent hole size, preventing an out of tolerance finish. These consistent holes lead to valuable time savings and reduced scrap costs.
CNC Machining Exotic Alloys: When machining Inconel, titanium, and other high-cost materials, reaming your hole is important to ensure that the desired finish specification is met. With reamers, a machinists can better predict tool life, leading to a better finished product and less scrap ratios. It is important to note that Harvey Tool reamers are offered AlTiN coated and fully stocked in every .0005" increment from .0080" to .0640".
https://www.harveyperformance.com/wp-content/uploads/2019/06/Feature-Image-Intro-to-Reamers-IMG.jpg
525
1400
Harvey Performance Company
http://www.harveyperformance.com/wp-content/uploads/2018/08/Logo_HarveyPerformanceCompany-4.png
Harvey Performance Company
2019-06-10 10:57:53
2021-11-19 08:38:16
An Introduction to Reamers & CNC Reaming