5 Questions to Ask Before Selecting an End Mill
Few steps in the machining process are as important as proper end mill selection. Complicating the process is the fact that each individual tool has its own unique geometries, each pivotal to the eventual outcome of your part. We recommend asking yourself 5 key questions before beginning the tool selection process. In doing so, you can ensure that you are doing your due diligence in selecting the best tool for your application. Taking the extra time to ensure that you're selecting the optimal tool will reduce cycle time, increase tool life, and produce a higher quality product.
Question 1: What Material Am I Cutting?
Knowing the material you are working with and its properties will help narrow down your end mill selection considerably. Each material has a distinct set of mechanical properties that give it unique characteristics when machining. For instance, plastic materials require a different machining strategy – and different tooling geometries – than steels do. Choosing a tool with geometries tailored towards those unique characteristics will help to improve tool performance and longevity.
Harvey Tool stocks a wide variety of High Performance Miniature End Mills. Its offering includes tooling optimized for hardened steels, exotic alloys, medium alloy steels, free machining steels, aluminum alloys, highly abrasive materials, plastics, and composites. If the tool you're selecting will only be used in a single material type, opting for a material specific end mill is likely your best bet. These material specific tools provide tailored geometries and coatings best suited to your specific material's characteristics. But if you're aiming for machining flexibility across a wide array of materials, Harvey Tool's miniature end mill section is a great place to start.
Helical Solutions also provides a diverse product offering tailored to specific materials, including Aluminum Alloys & Non-Ferrous Materials; and Steels, High-Temp Alloys, & Titanium. Each section includes a wide variety of flute counts – from 2 flute end mills to Multi-Flute Finishers, and with many different profiles, coating options, and geometries.
Question 2: Which Operations Will I Be Performing?
An application can require one or many operations. Common machining operations include:
Traditional Roughing
Slotting
Finishing
Contouring
Plunging
High Efficiency Milling
By understanding the operations(s) needed for a job, a machinist will have a better understanding of the tooling that will be needed. For instance, if the job includes traditional roughing and slotting, selecting a Helical Solutions Chipbreaker Rougher to hog out a greater deal of material would be a better choice than a Finisher with many flutes.
Question 3: How Many Flutes Do I Need?
One of the most significant considerations during end mill selection is determining proper flute count. Both the material and application play an important role in this decision.
Material:
When working in Non-Ferrous Materials, the most common options are the 2 or 3-flute tools. Traditionally, the 2-flute option has been the desired choice because it allows for excellent chip clearance. However, the 3-flute option has proven success in finishing and High Efficiency Milling applications, because the higher flute count will have more contact points with the material.
Ferrous Materials can be machined using anywhere from 3 to 14-flutes, depending on the operation being performed.
Application:
Traditional Roughing: When roughing, a large amount of material must pass through the tool's flute valleys en route to being evacuated. Because of this, a low number of flutes – and larger flute valleys – are recommend. Tools with 3, 4, or 5 flutes are commonly used for traditional roughing.
Slotting: A 4-flute option is the best choice, as the lower flute count results in larger flute valleys and more efficient chip evacuation.
Finishing: When finishing in a ferrous material, a high flute count is recommended for best results. Finishing End Mills include anywhere from 5-to-14 flutes. The proper tool depends on how much material remains to be removed from a part.
High Efficiency Milling: HEM is a style of roughing that can be very effective and result in significant time savings for machine shops. When machining an HEM toolpath, opt for 5 to 7-flutes.
Question 4: What Specific Tool Dimensions are Needed?
After specifying the material you are working in, the operation(s) that are going to be performed, and the number of flutes required, the next step is making sure that your end mill selection has the correct dimensions for the job. Examples of key considerations include cutter diameter, length of cut, reach, and profile.
Cutter Diameter
The cutter diameter is the dimension that will define the width of a slot, formed by the cutting edges of the tool as it rotates. Selecting a cutter diameter that is the wrong size – either too large or small – can lead to the job not being completed successfully or a final part not being to specifications. For example, smaller cutter diameters offer more clearance within tight pockets, while larger tools provide increased rigidity in high volume jobs.
Length of Cut & Reach
The length of cut needed for any end mill should be dictated by the longest contact length during an operation. This should be only as long as needed, and no longer. Selecting the shortest tool possible will result in minimized overhang, a more rigid setup, and reduced chatter. As a rule of thumb, if an application calls for cutting at a depth greater than 5x the tool diameter, it may be optimal to explore necked reach options as a substitute to a long length of cut.
Tool Profile
The most common profile styles for end mills are square, corner radius, and ball. The square profile on an end mill has flutes with sharp corners that are squared off at 90°. A corner radius profile replaces the fragile sharp corner with a radius, adding strength and helping to prevent chipping while prolonging tool life. Finally, a ball profile features flutes with no flat bottom, and is rounded off at the end creating a "ball nose" at the tip of the tool. This is the strongest end mill style. A fully rounded cutting edge has no corner, removing the mostly likely failure point from the tool, contrary to a sharp edge on a square profile end mill. An end mill profile is often chosen by part requirements, such as square corners within a pocket, requiring a square end mill. When possible, opt for a tool with the largest corner radius allowable by your part requirements. We recommend a corner radii whenever your application allows for it. If square corners are absolutely required, consider roughing with a corner radius tool and finishing with the square profile tool.

Question 5: Should I Use a Coated Tool?
When used in the correct application, a coated tool will help to boost performance by providing the following benefits:
More Aggressive Running Parameters
Prolonged Tool life
Improved Chip Evacuation
Harvey Tool and Helical Solutions offer many different coatings, each with their own set of benefits. Coatings for ferrous materials, such as AlTiN Nano or TPlus, typically have a high max working temperature, making them suitable for materials with a low thermal conductivity. Coatings for non-ferrous applications, such as TiB2 or ZPlus, have a low coefficient of friction, allowing for easier machining operations. Other coatings, such as Amorphous Diamond or CVD Diamond Coatings, are best used in abrasive materials because of their high hardness rating.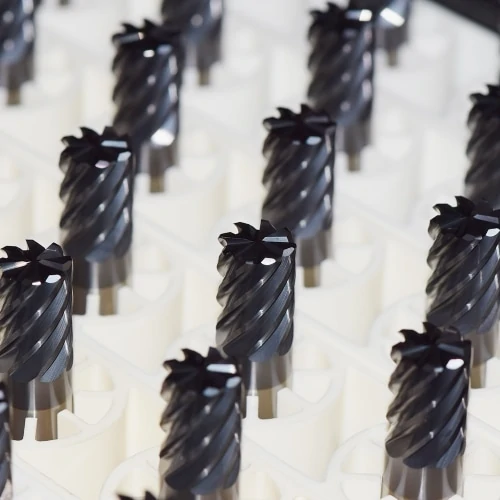 Ready to Decide on an End Mill
There are many factors that should be considered while looking for the optimal tooling for the job, but asking the aforementioned five key question during the process will help you to make the right decision. As always, The Harvey Performance Company Technical Service Department is always available to provide recommendations and walk you through the tool selection process, if need be.
Harvey Tool Technical Support: 800-645-5609
Helical Solutions Technical Support: 866-543-5422
https://www.harveyperformance.com/wp-content/uploads/2018/10/Feature-Image-5-Questions-IMG-2.jpg
525
1400
Harvey Performance Company
http://www.harveyperformance.com/wp-content/uploads/2018/08/Logo_HarveyPerformanceCompany-4.png
Harvey Performance Company
2018-10-16 09:00:24
2023-10-24 10:42:25
5 Questions to Ask Before Selecting an End Mill