Why You Should Stop Deburring by Hand
Deburring is a process in which sharp edges and burrs are removed from a part to create a more aesthetically pleasing final product. After milling, parts are typically taken off the machine and sent off to the Deburring Department. Here, the burrs and sharp points are removed, traditionally by hand. However, an operation that takes an hour by hand can be reduced to mere minutes by deburring parts right in the machine with high precision CNC deburring tools, making hand deburring a thing of the past.
High Precision Tools
Hand deburring tools often have a sharp hook-shaped blade on the end, which is used to scrape/slice off the burrs as it passes along the edge of the part. These tools are fairly simple and easy to use, but much less efficient and precise than CNC deburring tools.

CNC deburring tools are also held to much tighter tolerances than traditional hand-deburring tools. Traditional cylindrical deburring tools typically have a diameter-tolerance window of +/- .008 versus a CNC deburring end mill which has a diameter tolerance of +/-.0005. The tighter tolerance design eliminates the location issues found in traditional deburring tools with loose tolerances, allowing them to be programmed like a traditional end mill.
While hand deburring tools often have just a single blade, CNC deburring tools feature double cut patterns and a high number of flutes. The double cut pattern contains both right hand and left hand teeth, which results in an improved finish. These tools leave completed parts looking far superior to their hand-deburred counterparts, with more consistent and controlled edge breaks. Additionally, there is a large variety of CNC deburring tools available today which can take full advantage of multi-axis machines and the most complex tool paths. For example, Harvey Tool's 270° Undercutting End Mill is a great choice for multi-axis and more complex deburring options. Further, Deburring Chamfer Cutters are multi-use tools that can perform both chamfering and deburring accurately with no need for a tool change.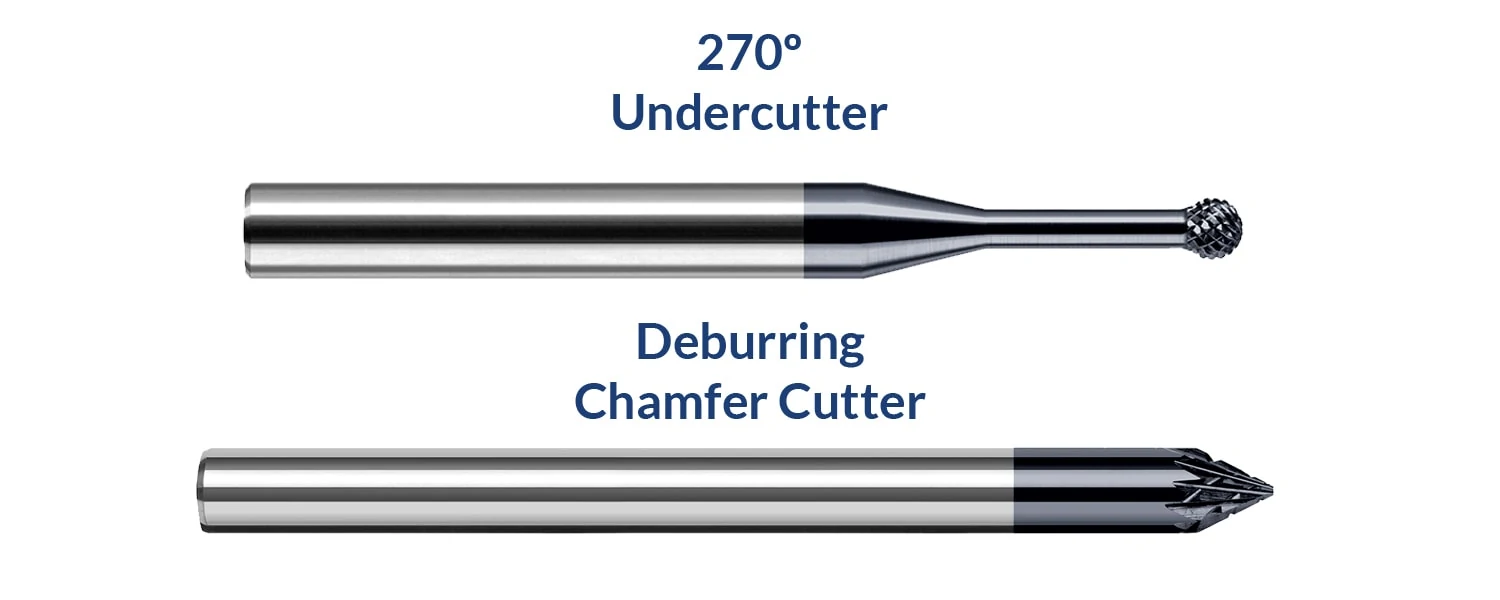 Reduce Production Costs and Increase Profits
Having an entire department dedicated to deburring can be costly, and many smaller businesses may have pulled employees off other jobs to help with deburring, which hampers production. Taking employees off the deburring station and asking them to run more parts or man another department can help keep labor costs low while still increasing production rates.
By deburring right in the CNC machine, parts can be completed in one machining operation. The double-cut pattern found on many deburring tools also allows for increased speeds and feeds. This helps to reduce cycle times even further, saving hours of work and increasing production efficiency. Deburring in the machine is a highly repeatable process that reduces overall cycle times and allows for more efficient finishing of a part. In addition, CNC machines are going to be more accurate than manual operations, leading to fewer scrapped parts due to human error and inconsistencies.
Simply put, the precision and accuracy of the CNC machine, along with the cost and time savings associated with keeping the part in the machine from start to finish, makes deburring in the CNC machine one of the easiest way to increase your shop's efficiency.
https://www.harveyperformance.com/wp-content/uploads/2018/03/Feature-Image-Stop-Deburring-by-Hand-IMG-1.jpg
525
1400
Harvey Performance Company
http://www.harveyperformance.com/wp-content/uploads/2018/08/Logo_HarveyPerformanceCompany-4.png
Harvey Performance Company
2018-03-13 16:26:18
2023-10-12 14:35:44
Why You Should Stop Deburring by Hand