Despite being a softer material, graphite is actually one of the most difficult materials to machine. There are many considerations machinists need to make in terms of tooling, coolant use, and personal safety when it comes to machining these parts. This "In The Loupe" post will examine the material properties, key machining techniques to consider, and tips for properly selecting cutting tools to achieve success in this tricky material.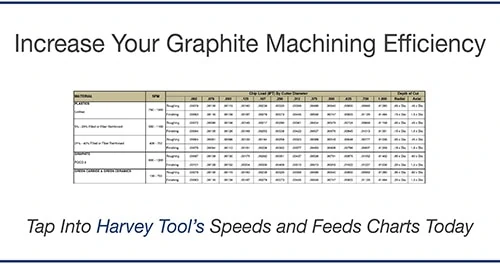 What is Graphite?
While graphite is an allotrope of carbon, the two terms are not simply interchangeable. Carbon is an element that can form into several different allotropes including graphite, diamond, and fullerite. Graphite happens to be the most stable form of carbon, and is the most common, as carbon naturally occurs as graphite under standard conditions.
Graphite is most recognized for its superior conductivity and resistance to high heat and corrosion. This makes it a common material in high heat, high-pressure situations in the aerospace, electrode, nuclear, energy, and military industries.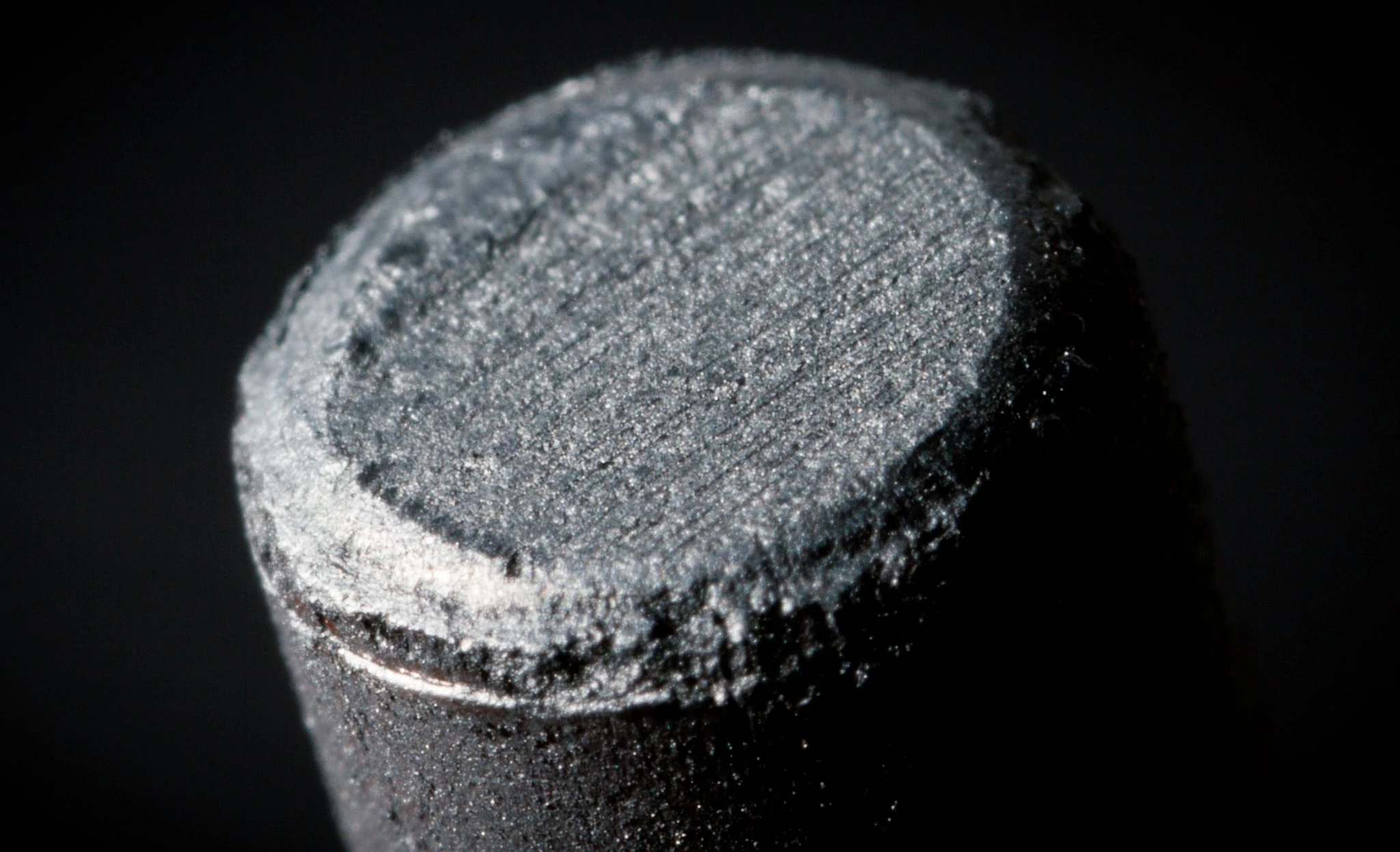 Even though graphite can handle intense high-pressure situations with ease, it is actually a very soft, abrasive, and brittle material. This can cause serious challenges when machining, as graphite can eat up cutting tools, and severely minimize a tool's usable life. However, with the proper tooling and techniques, there are ways to optimize graphite machining to be more cost-effective than the competition.
Graphite Machining Techniques
Since graphite is such a soft and brittle material, special consideration needs to be made when machining to avoid chipping it. To get a good cut, it is recommended that you take light chip loads and use lower feed rates in graphite. If you were to take a heavy cut at a fast feed rate, you would start chipping the graphite and could cause it to fracture completely. To give a comparison point, chip loads for graphite are similar to those for Aluminum materials, but with less than half the feed rate.
To give you an idea of speeds and feeds for graphite, here is an example using a 1/4″ Harvey Tool CVD Diamond Coated, 4 flute Square End Mill. If that tool was running at a standard RPM of 12,000 at 780 SFM, the recommended chip load would be .00292 for a feed rate of 140 IPM.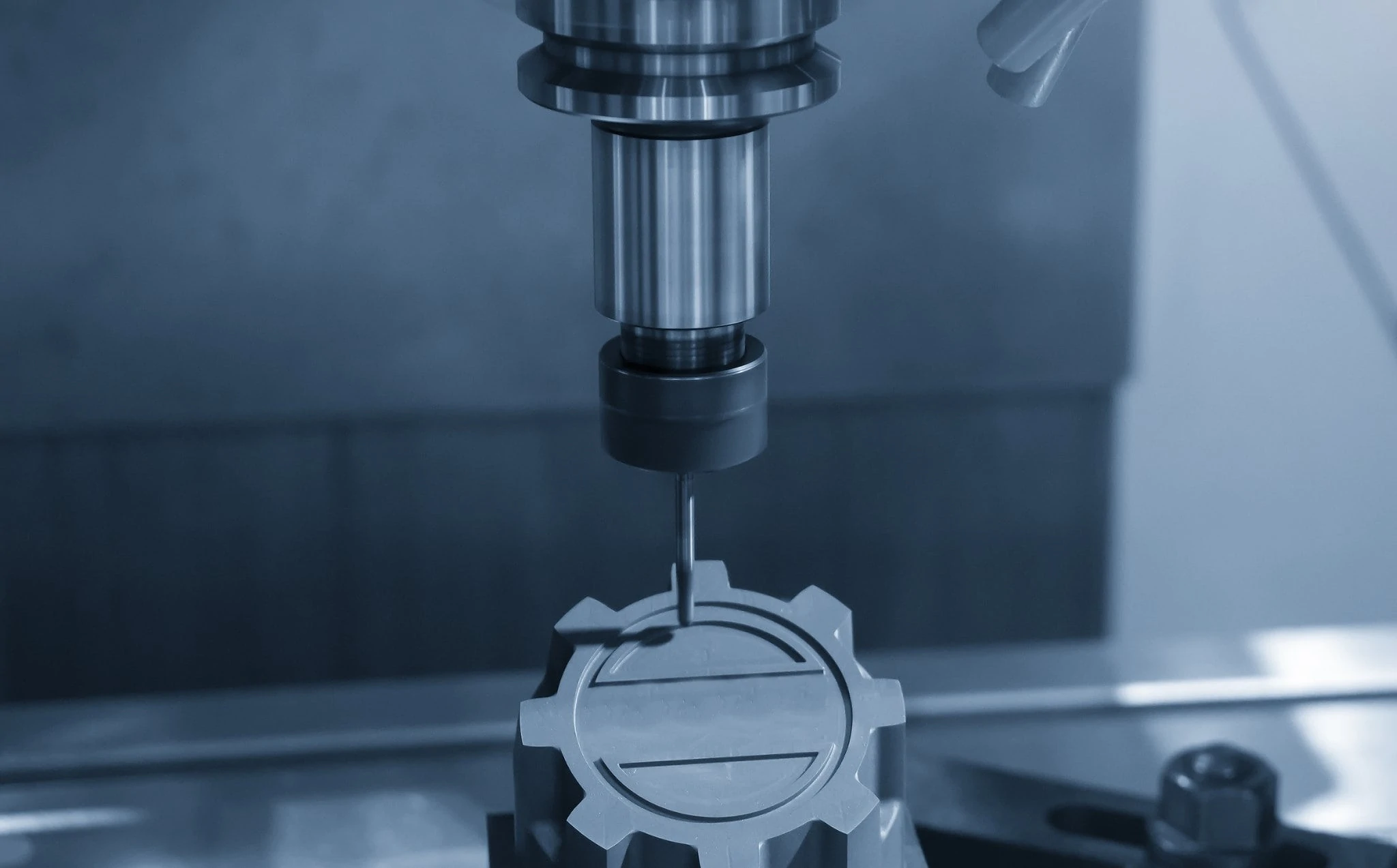 In terms of machine setup, the one major tip to remember is to always avoid using coolant. Graphite is a fairly porous material, and so it can absorb coolant and act as a "coolant sponge," which will cause problems with finished parts. Inside the machine and on the tooling, the coolant can actually react with the graphite dust and create an abrasive slurry, which will cause problems while machining. A vacuum system is recommended for clearing material while machining graphite. Otherwise, coated tools should be able to run dry.
Another thing to note when machining graphite is that because graphite does not produce chips, but rather a cloud of very abrasive dust, it can be harmful to operators and machines without proper care. Operators should be wearing a protective mask to avoid inhaling the graphite dust. Proper ventilation and maintaining air quality in the shop is also key for the protection of machinists when working in graphite.
Since the graphite dust is also extremely conductive, it can easily damage non-protective circuits inside your CNC machine, which can cause major electrical issues. While coolant is not recommended, a vacuum system can help to remove the dust, keeping it from accumulating too much inside the machine and preventing serious problems.
Cutting Tools for Graphite Machining
As previously mentioned, graphite is a notorious cutting tool-killer due to its extremely abrasive nature. Even the highest quality carbide end mills, if left uncoated, will wear quickly on most jobs. This extreme wear may force a tool change during an operation, which could lead to an imperfection in the part when trying to restart the operation where the worn tool left off.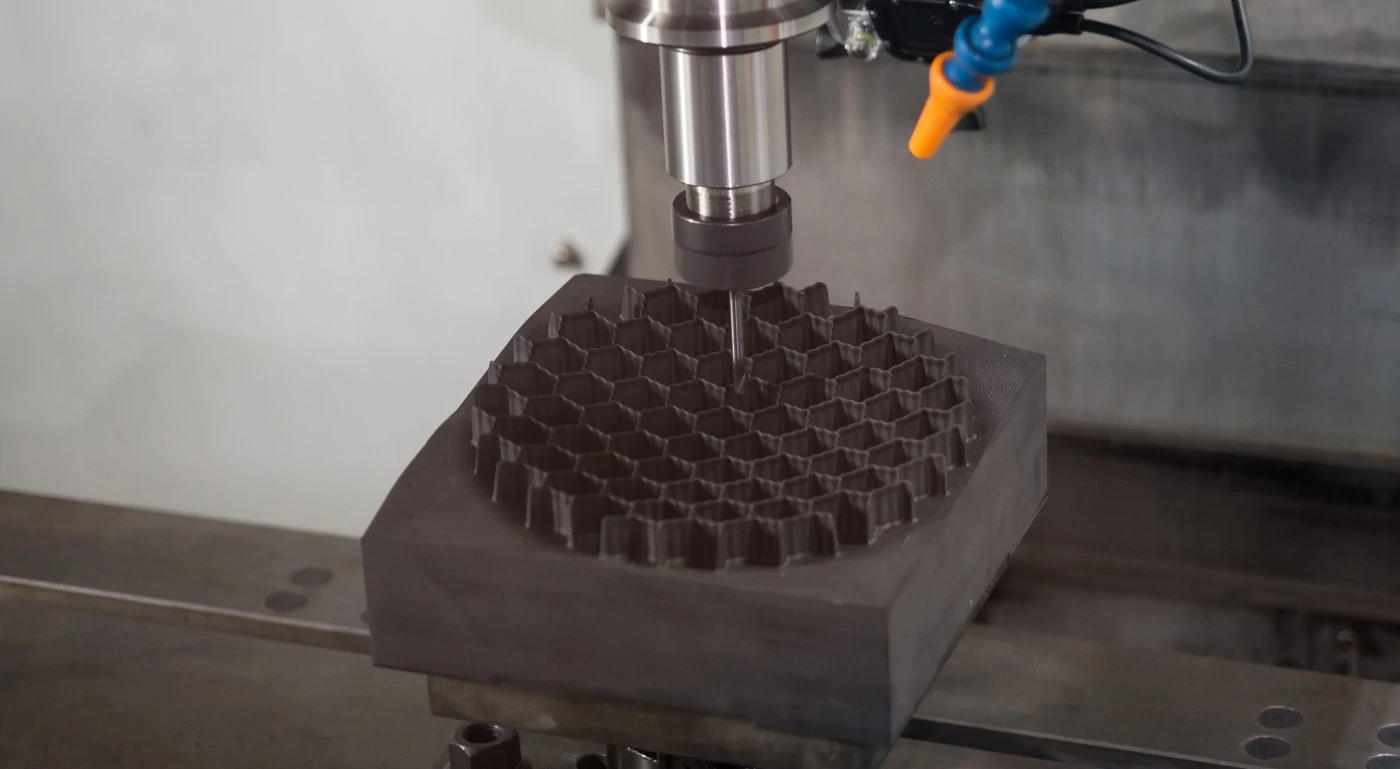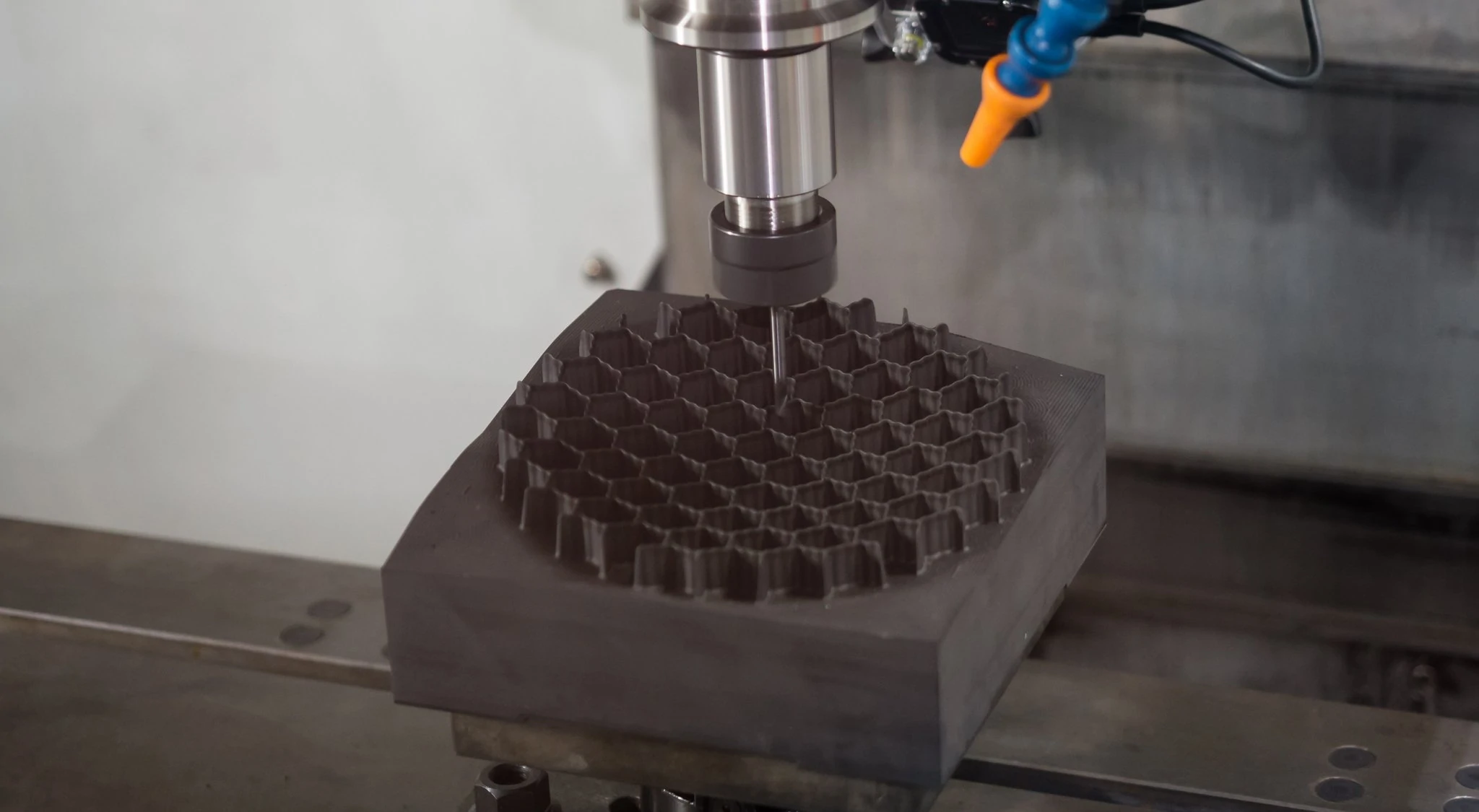 When selecting a cutting tool for graphite machining, the coating and cutting edge is the most important consideration. Flute count, helix angles, and other key features of the tool geometry ultimately come second to the coating when purchasing tooling.
For graphite machining, a CVD (Chemical Vapor Deposition) diamond coating is recommended whenever possible to maximize tool life and tool performance. These coatings are grown directly into the carbide end mill, improving the hardness and leaving the tool with a coating layer that is 5 times thicker than a PVD Diamond Coating. While not the sharpest edge, the CVD diamond coating provides much longer tool life than other diamond coatings due to the thicker diamond layer.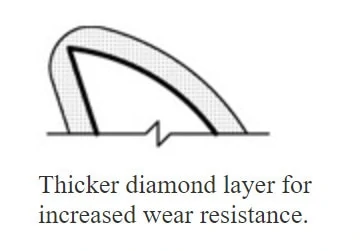 Even though initial tooling costs may be higher with CVD coated tools versus uncoated tools, since CVD coated tools see considerably longer tool life than uncoated tools, this makes the cost per part shrink significantly. In difficult, abrasive materials like graphite, the uncoated carbide tool will last a short time before the abrasiveness of the graphite completely wears down the cutting edge. Having a CVD coated tool will give you a leg up over the competition, keep your machine running with less downtime for tool changes, and ultimately deliver substantial cost savings.

Overall, graphite can be a difficult material to machine, but with the right cutting tools and proper speeds and feeds you will be making quality parts in no time. Harvey Tool offers a wide selection of CVD coated end mills in various diameters, reaches, and lengths of cut to ensure you have what you need for any job that comes your way.
https://www.harveyperformance.com/wp-content/uploads/2020/04/Grappling-With-Graphite.jpg
435
1155
Harvey Performance Company
http://www.harveyperformance.com/wp-content/uploads/2018/08/Logo_HarveyPerformanceCompany-4.png
Harvey Performance Company
2020-04-01 10:58:43
2021-12-03 14:28:55
Grappling With Graphite: A Machining Guide