Breaking and damaging an end mill is oftentimes an avoidable mistake that can be extremely costly for a machine shop. To save time, money, and your end mill it is important to learn some simple tips and tricks to extend tool life.
Properly Prepare Before the Tool Selection Process
The first step of any machining job is selecting the correct end mill for your material and application. However, this doesn't mean that there should not be an adequate amount of legwork done beforehand to ensure the right decision on a tool is being made. Harvey Tool and Helical Solutions have thousands of different tools for different operations – a vast selection which, if unprepared – can easily result in selecting a tool that's not the best for your job. To start your preparation, answer the 5 Questions to Ask Before Selecting an End Mill to help you quickly narrow down your selection and better understand the perfect tool you require.
Understand Your Tooling Requirements
It's important to understand not only what your tool needs, but also general best practices to avoid common machining mishaps. For instance, it is important to use a tool with a length of cut only as long as needed, as the longer a tools length of cut is, the greater the chance of deflection or tool bending, which can decrease its effective life.

Another factor to consider is the coating composition on a tool. Harvey Tool and Helical Solutions offer many varieties of coatings for different materials. Some coatings increase lubricity, slowing tool wear, while others increase the hardness and abrasion resistance of the tool. Not all coatings increase your tool's life in every material, however. Be wary of coatings that don't perform well in your part's material – such as the use of AlTiN coating in Aluminum (Both coating and material are aluminum-based and have a high affinity for each other, which can cause built-up edge and result in chip evacuation problems).
Consider Variable Helix & Pitch Geometry
A feature on many of our high performance end mills is variable helix or variable pitch geometry, which have differently-spaced flutes. As the tool cuts, there are different time intervals between the cutting edges contacting the workpiece, rather than simultaneously on each rotation. The varying time intervals minimizes chatter by reducing harmonics, increasing tool life and producing better results.
Ensure an Effective Tool Holding Strategy
Another factor in prolonging tool life is proper tool holding. A poor tool holding strategy can cause runout, pullout, and scrapped parts. Generally, the most secure connection has more points of contact between the tool holder and tool shank. Hydraulic and Shrink Fit Tool Holders provide increased performance over other tightening methods.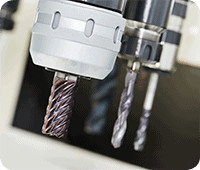 Helical also offers shank modifications to all stocked standards and special quotes, such as the ToughGRIP Shank, which provides added friction between the holder and the shank of the tool for a more secure grip; and the Haimer Safe-Lock™, which has grooves on the shank of the tool to help lock it into place in a tool holder.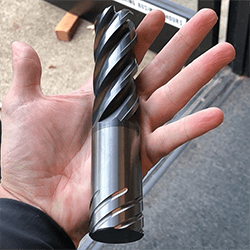 Trust Your Running Parameters, and their Source
After selecting the correct end mill for your job, the next step is to run the tool at the proper speeds and feeds.
Run at the Correct Speed
Understanding the ideal speed to run your machine is key to prolonging tool life. If you run your tool too fast, it can cause suboptimal chip size, ineffective chip evacuation, or even total tool failure. Adversely, running your tool too slowly can result in deflection, bad finish, or decreased metal removal rates.
Push at the Best Feed Rate
Another critical parameter of speeds and feeds is finding the best possible feed rate for your job, for sake of both tool life and achieving maximum shop efficiency. Pushing your tool too aggressively can result in breakage, but being too conservative can lead to recutting chips and excess heat generation, accelerating tool wear.
Use Parameters from Your Tooling Manufacturer
A manufacturer's speeds and feeds calculations take into account every tool dimension, even those not called out in a catalog and readily available to machinists. Because of this, it's best to rely on running parameters from tooling manufacturers. Harvey Tool offers speeds and feeds charts for every one of its more than 21,000 tools featured in its catalog, helping machinists to confidently run their tool the first time.
Harvey Performance Company offers the Machining Advisor Pro application, a free, cutting-edge resource that generates custom running parameters for optimized machining with all of Helical's products.
Opt for the Right Milling Strategy: Climb vs Conventional
There are two ways to cut material when milling: Climb Milling and Conventional Milling. In conventional milling, the cutter rotates against the feed. In this method, chips will start at theoretical zero and increase in size. Conventional milling is usually recommended for tools with higher toughness, or for breaking through case hardened materials.
In Climb Milling, the cutter rotates with the feed. Here, the chips start at maximum width and decrease, causing the heat generated to transfer into the chip instead of being left in the tool or work piece. Climb milling also produces a cleaner shear plane, causing less rubbing, decreasing heat, and improving tool life. When climb milling, chips will be removed behind the cutter, reducing your chances of recutting.
Utilize High Efficiency Milling
High Efficiency Milling (HEM), is a roughing technique that uses the theory of chip thinning by applying a smaller radial depth of cut (RDOC) and a larger axial depth of cut (ADOC). The parameters for HEM are similar to that of finishing, but with increased speeds and feeds, allowing for higher material removal rates (MRR). HEM utilizes the full length of cut instead of just a portion of the cutter, allowing heat to be distributed across the cutting edge, maximizing tool life and productivity. This reduces the possibility of accelerated tool wear and breakage.
Decide On Coolant Usage & Delivery
Coolant can be an extremely effective way to protect your tool from premature wear and possible tool breakage. There are many different types of coolant and methods of delivery to your tool. Coolant can come in the form of compressed air, water-based, straight oil-based, soluble oil-based, synthetic or semi-synthetic. It can be delivered as mist, flood, high pressure or minimum quantity lubricant.
Appropriate coolant type and delivery vary depending on your application and tool. For example, using a high pressure coolant with miniature tooling can lead to tool breakage due to the fragile nature of extremely small tools. In applications of materials that are soft and gummy, flood coolant washes away the long stringy chips to help avoid recutting and built-up edge, preventing extra tool wear.
Extend Your Tool's Life
The ability to maximize tool life saves you time, money and headaches. To get the best possible outcome from your tool, you first need to be sure you're using the best tool for your job. Once you find your tool, ensure that your speeds and feeds are accurate and are from your tooling manufacturer. Nobody knows the tools better than they do. Finally, think about how to run your tool: the rotation of your cutter, whether utilizing an HEM approach is best, and how to introduce coolant to your job.
https://www.harveyperformance.com/wp-content/uploads/2018/12/Featured-Image-Life-of-End-Mill-IMG.jpg
525
1400
Guy Petrillo
http://www.harveyperformance.com/wp-content/uploads/2018/08/Logo_HarveyPerformanceCompany-4.png
Guy Petrillo
2018-12-05 11:28:21
2022-06-08 11:13:18
How to Extend the Life of Your End Mill