Titan Ring Design – Featured Customer
Featured Image Courtesy of Trevor Hirschi, Titan Ring Design
Officially started in 2015, Titan Ring Design is a high quality machine shop that designs rings, as well as mechanical tie clips, art based designs, and freelance custom designs. While working at a machine shop that produced top notch parts for just about every type of field you can imagine, now owner of Titan Ring Design, Trevor Hirschi, noticed that the machining industry is mostly about cranking out a mass quantity of the highest quality parts as quickly as possible. This often resulted in compromised tolerances and part finishes, something Trevor aimed to change. Quality always comes first in his projects.
Whether you are looking for a band for an upcoming wedding, looking to replace or upgrade your current wedding ring, or just want something unique and beautiful, Trevor's designs are different than anything else. Trevor was able to take the time and answer some questions for us about his business, machining techniques, tooling, and a lot more.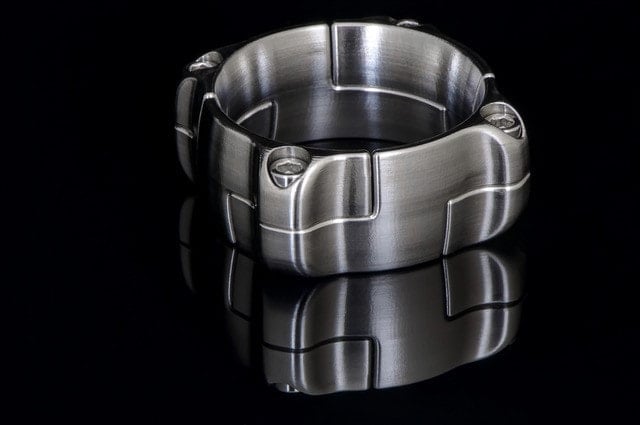 How was Titan Ring Design started?
Titan Ring Designs is a part time, passion/hobby business of mine that I sort of started at the time I was ring shopping for a wedding ring back in 2013. I didn't like what was available on the market and was inspired by a former Oakley designer to machine my own. I had been introduced to machining in High School at a technical college and had been working as a machinist since graduating in 2007, so I decided to make my own wedding ring. It sort of snowballed into my business in 2015, after finally deciding to make it official with a business license and some sales. Some further work experience in California for McWhinney Designs brought me greater motivation and encouragement to keep going and helped me get to where I am today. I now offer several different CNC Milled [wedding] rings, as well as a mechanical tie clip, some occasional art based designs, and freelance custom design and mill work. I also teach machining full time at the same tech college I graduated from in my own education and enjoy sharing my knowledge and love for machining with those interested in the career.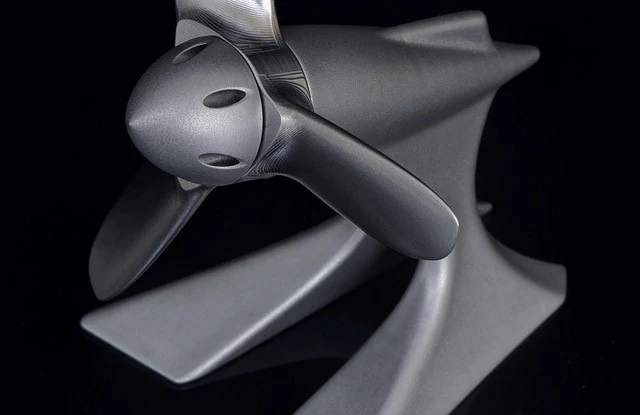 What capabilities does your shop have?
Custom Design in CAD/CAM, 3axis CNC Mill work, Small Scale Lathe Work, Tumbling, Finishing, Assembling, 3D Printing/Rapid Prototyping. I cut 6-4 Titanium primarily, but also work with Stainless Steel for fasteners, Aluminum and some Steel for fixtures, and Polycarbonate for prototyping ideas. I teach machining technology full time, so I have access to SolidWorks, MasterCam, Fusion360, and NC Simul. We currently have a Haas OfficeMill 3axis, Levin High Precision Instrument Maker's Lathe, Prusa i3 MK2S 3D Printer in the shop.
What sets Titan Ring Design apart from the competition?
There are lots of people making interesting rings today, but most are done on lathes. Anyone can make a round part on a lathe. Very few of them make rings on a mill, and I feel that gives the opportunity to be creative and allows you to think outside the box more. I try to stand out in that field by offering something that makes you think about the value of the design process more by interrupting and challenging the norm. I also like to take on work that is outside of jewelry, but still highly design related. Most other ring makers stick with just rings.
What is your favorite part of the job and what other passions do you have?
Making cool stuff! Most machinists only end up making whatever comes through the shop, which can be cool, but most of the time you have no idea what you're making, just some part for Customer X, Y, or Z. Being a small, design centered business, I get to come up with ideas for what to make next, and most of the time I start out making something that wasn't ever intended to be marketed, it was simply something I wanted for myself that I found others were interested in too. I discovered machining in high school and fell in love with it when I started making parts for my dirt bikes and truck. I've been hooked ever since but I do have other passions. I've always had a big interest in LED lighting and flashlights. I'm perpetually working on different ideas for making one of my own, which will happen eventually. I'm also a bit of a health-nut and enjoy being outdoors and spending time with my family.
Who is the most famous contact that you have worked on a project with?
I made a ring for an NFL player once, but I don't follow football and his name didn't stick out to me so I've forgotten who he was. I also had the privilege of working for McWhinney Designs and made some truly remarkable products in the openable wedding ring niche market. I gained more skill in design, machining, craftsmanship, and engineering while working for Jeff McWhinney. We're good friends and often work together to help each other when one of us gets stumped on something.
What is the most difficult project you have worked on?
I was commissioned to design from the ground up and machine was a custom set of all-titanium cabinet door handle pulls for a very high end wine cabinet. Each handle was an assembly of 32 pieces, all machined from billet 6-4 Titanium. They required over 400 individual CAM toolpath operations, 35 unique machine setups, and well over 300 hours to complete, including finishing and assembly. More than anything, it was extremely time intensive in programming, set up, and machine time. The design was a fair bit challenging in my mind and initial modeling, but didn't compete with what it took to actually produce them. I grossly underestimated and underbid the job. But in the end, I really enjoyed making a truly one of a kind, Tour-De-Force product, even if it was completely overkill for its purpose. I enjoy making that kind of stuff, and the lessons you learn from it.
What is your favorite project you have worked on?
It's really simple and was initially designed just because I wanted it for myself, but I have a mechanical titanium tie clip that I really enjoy making. It's quite unique in that, as far as I know, to this day, it is the only CNC machined mechanical titanium tie clip you'll find anywhere in the world. It puts a little bling in your formal attire, for those times you have to go full suit and tie.
Why is high quality tool performance important to you?
Because I cut mostly titanium, tools wear out quickly if you don't have a rigid set up, the right coolant, proper feeds & speeds, and of course, high quality tooling. Harvey Tool makes such a wide variety of micro tooling that works so well in the industry of making small titanium parts, where I like to fit into. I've used a fair spread across Harvey's offering and have always been impressed with performance and the feeds and speeds guides are top notch too. I had an application that required a .0035" internal corner radius which landed me with a .007" end mill. It's still hard to comprehend tooling in this league. My machine actually recommends only tooling under 1/4" shank size, so I don't get into Helical's range too often. But I've used Helical 1/2" end mills extensively at other job shops and they are definitely made for eating metal. I was using another tool brand's key cutters for some undercut hinges and would wear through them much more often than I thought was reasonable. When I finally decided to try Harvey's key cutters, I was blown away with how much longer they have lasted me. Truly a game changer!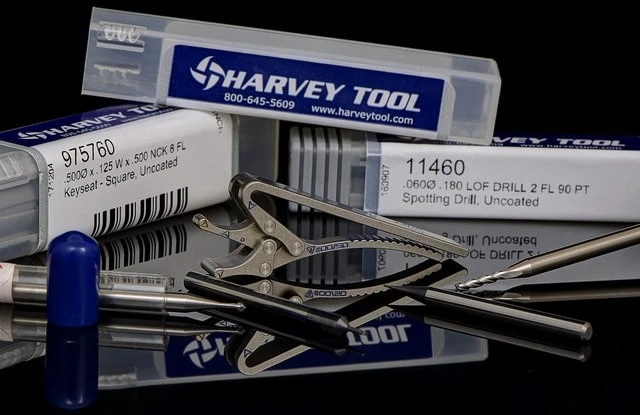 If you could give one piece of advice to a new machinist ready to take the #PlungeIntoMachining, what would it be?
Be creative. Machining is such a rewarding career that has limitless possibilities of what you can achieve. Follow your passion and have fun with it! If you end up in a dead end shop doing something you don't like, go somewhere else. There are so many shops that need help right now and chances are good that you can find a better shop that suits your style.
Is there anything else you would like to share with the In The Loupe community?
To those machine shops out in industry, do whatever you can to be supportive of your local trade schools that are teaching the upcoming machinist workforce. They really need your support and in turn will bring you the employees you depend on.
Please take the time to check out Titan Ring Designs website or follow them on Instagram @titanringdesigns
https://www.harveyperformance.com/wp-content/uploads/2020/05/Feature-Image-Titan-Ring-Designs-IMG-1.jpg
525
1400
Guy Petrillo
http://www.harveyperformance.com/wp-content/uploads/2018/08/Logo_HarveyPerformanceCompany-4.png
Guy Petrillo
2020-05-05 10:26:26
2021-08-18 13:48:46
Titan Ring Design – Featured Customer