Titanium Machining Cost Savings With Helical Solutions
When the manufacturing team at Geospace Technologies was looking for better tool life and improved performance on a Titanium CNC milling job, they turned to Harvey Performance Company and local Application Engineer Mike Kanigowski to dial in some Helical Solutions End Mills. With Mike's help, Geospace Technologies, led by Lead Mill Programmer Tranquilino Sosa, achieved massive success and extensive titanium machining cost savings, which led them to completely shift their tooling repertoire to Helical's high-performance end mills in their shop.
Struggling With Tool Life
Prior to switching to Helical, Geospace Technologies was experiencing trouble with tool life on a job that required both roughing and finishing toolpaths on a Titanium (Ti-6AL-4V) part. For their roughing pass, Geospace was using a competitor's 4 flute, 3/8" diameter end mill with a 30° helix angle and TiALN coating. In traditional roughing toolpaths, this tool was running at 1,750 RPM with a 10 IPM feed rate. The tool would take four step downs, three with an axial depth of cut of .200", and a final pass at .100" for a total depth of .700".
When finishing, the team used a 1/2" version of the same competitor tool, running at 900 RPM with an 8 IPM feed rate. This would take two passes, one at .400" deep and the last down to the bottom of the part at .700".
With this strategy and tooling, the team was creating high-quality parts at a cycle time of 15 minutes and 22 seconds per part, but were only seeing the roughing tool last for 60 parts on average, and the finishing tool for around 120 parts. This was causing tool costs to be higher than they would like, and costing the team precious time with frequent tool changes.
Sosa had seen some of the success that other shops were having with Titanium milling using Helical Solutions end mills, and so they reached out to Kanigowski to see how Helical could help them lower their cost per part while achieving an even better finish.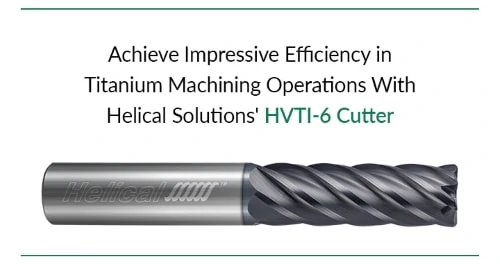 Dialing in Tool Selection
When Mike got in touch with the team at Geospace, he knew there were some immediate benefits to changing the toolpaths used in this job. Using their ESPRIT software, the team was able to dial in a new program using high efficiency milling (HEM) toolpaths through ESPRIT's "Profit Milling" technology.
With HEM toolpaths in place, Geospace was going to need new high performance tools to take full advantage of the programming adjustments. After much testing and evaluating several options from Helical's extensive line of end mills for Titanium, Geospace settled on two solid tools.
Helical offers many different options for Titanium milling in HEM toolpaths. During testing, the team at Geospace decided on Helical EDP 59424, a 3/8" diameter, 7 flute, corner radius end mill. This tool features variable pitch geometry and offset chipbreakers for optimal chip evacuation, reduced harmonics, and minimized tool pressure, as well as Helical's Aplus coating for high temperature resistance, decreased wear, and improved tool life.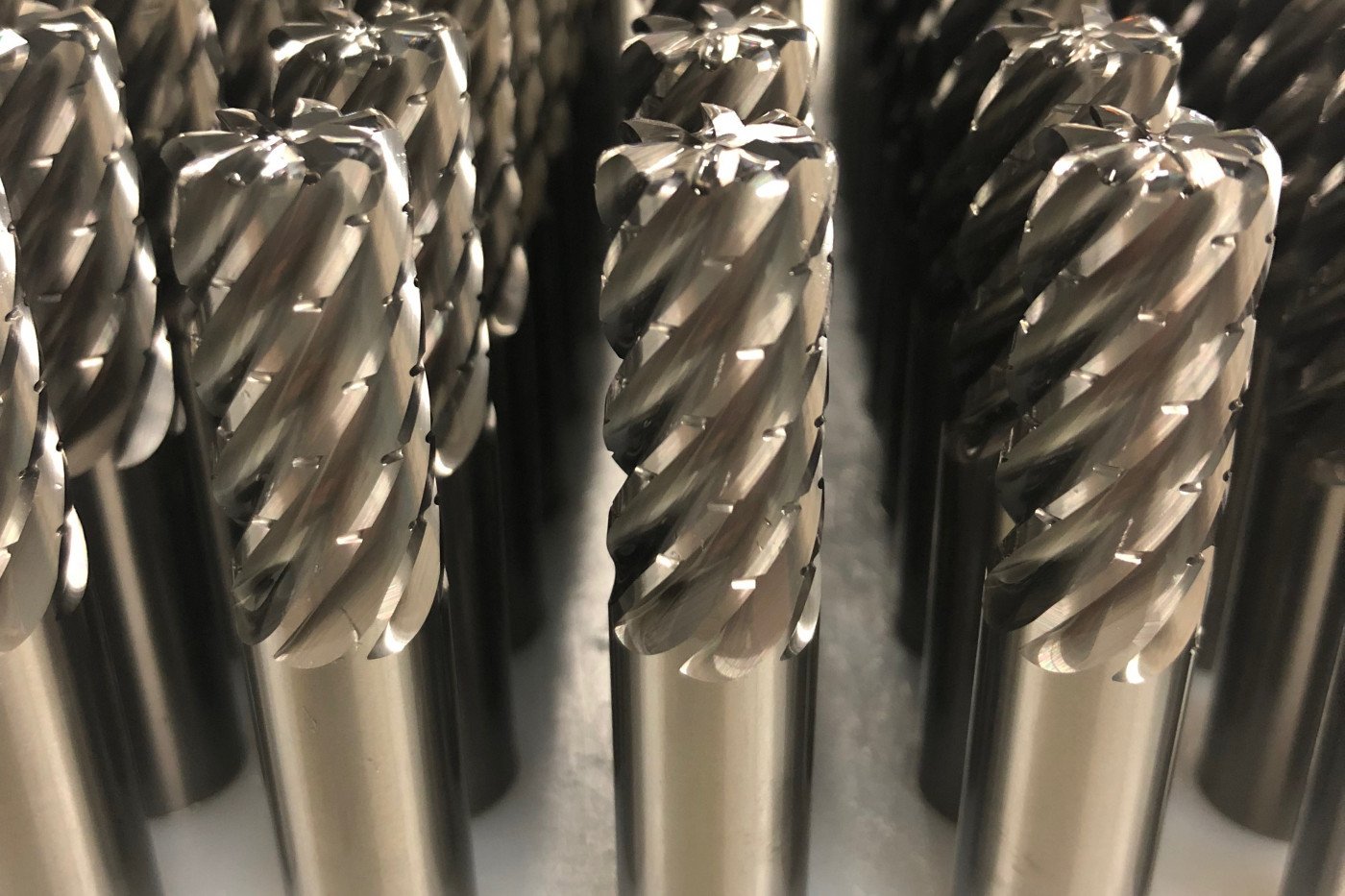 When looking at the finishing toolpath, Geospace decided on Helical EDP 82566, a 3/8", 6 flute, square end mill from Helical's well known HEV-6 product line. This tool featured a variable pitch design to help mitigate chatter and leave a superior finish. While Helical also offers several tools for finishing toolpaths in Titanium, during testing this tool provided Geospace with the best finish for their specific part geometry.
Experiencing the "Helical Difference"
With the new tools in place, Sosa's team reached out to Helical for help dialing in speeds and feeds. The Helical tech team was able to get them set up on Machining Advisor Pro, an advanced speeds and feeds calculator developed by the experts behind Helical Solutions tooling. With this "miracle worker" application in their arsenal, the team was able to easily dial in their new tools for their specific material grade, depth of cut, and machine setup.
The team saw immediate positive results and cost-savings on this job. They were able to increase their roughing toolpaths to 4,500 RPM and 157 IPM. The finishing path remained largely the same, but resulted in a much improved final part. In total, cycle time dropped from 15 minutes and 22 seconds per part to 12 minutes and 17 seconds per part, which was great, but the improvement in tool life was where Sosa was most impressed.
With the new Helical end mill in the shop, Geospace was able to run both tools for 580 parts with very minimal wear on the tool. This was a nearly 1000% improvement in tool life for their roughing passes and a 483% improvement in tool life for the finishing operation. In total, one roughing tool was able to last more than 42 hours in the cut before needing to be replaced.
Eliminating the need for a tool change every 60 parts was also a significant time-saver. Constant tool changes were causing serious machine downtime, which was eliminated with the longer tool life experienced with the Helical end mills. What seems like a minor inconvenience will truly add up to dozens of hours in saved time over the course of a few months for Sosa's team.
Geospace was thrilled with the results they saw on this Titanium job, as they had never experienced long tool life in Titanium with any other competitor brand. Sosa and his team are excited to continue using Helical Solutions product across all of their other jobs going forward and to continue working with Kanigowski and the Helical tech team on dialing in tool selection and speeds and feeds on future projects.
Please see below for a head-to-head breakdown of the Helical end mills' performance in terms of total costs and productivity gained versus that of the competitor. These numbers are measured per 1,000 parts, taking into account tooling costs, tool change time, labor costs, running parameters, and cycle times.
---

https://www.harveyperformance.com/wp-content/uploads/2020/05/Feature-Image-Titanium-Cost-Savings-IMG-1.jpg
525
1400
Harvey Performance Company
http://www.harveyperformance.com/wp-content/uploads/2018/08/Logo_HarveyPerformanceCompany-4.png
Harvey Performance Company
2020-05-04 13:55:03
2021-11-19 08:35:39
Titanium Machining Cost Savings With Helical Solutions