Most Common Methods of Tool Entry
Tool entry is pivotal to machining success, as it's one of the most punishing operations for a cutter. Entering a part in a way that's not ideal for the tool or operation could lead to a damaged part or exhausted shop resources. Below, we'll explore the most common part entry methods, as well as tips for how to perform them successfully.
---
Pre-Drilled Hole
Pre-drilling a hole to full pocket depth (and 5-10% larger than the end mill diameter) is the safest practice of dropping your end mill into a pocket. This method ensures the least amount of end work abuse and premature tool wear.
---
Helical Interpolation
Helical Interpolation is a very common and safe practice of tool entry with ferrous materials. Employing corner radius end mills during this operation will decrease tool wear and lessen corner breakdown. With this method, use a programmed helix diameter of greater than 110-120% of the cutter diameter.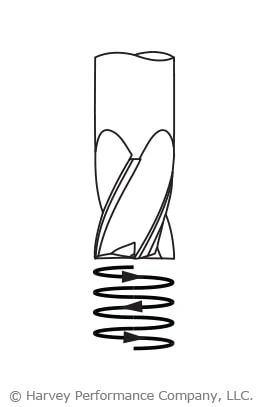 ---
Ramping-In
This type of operation can be very successful, but institutes many different torsional forces the cutter must withstand. A strong core is key for this method, as is room for proper chip evacuation. Using tools with a corner radius, which strengthen its cutting portion, will help.
Suggested Starting Ramp Angles:
Hard/Ferrous Materials: 1°-3°
Soft/Non-Ferrous Materials: 3°-10°
For more information on this popular tool entry method, see Ramping to Success.
---
Arcing
This method of tool entry is similar to ramping in both method and benefit. However, while ramping enters the part from the top, arcing does so from the side. The end mill follows a curved tool path, or arc, when milling, this gradually increasing the load on the tool as it enters the part. Additionally, the load put on the tool decreases as it exits the part, helping to avoid shock loading and tool breakage.
---
Straight Plunge
This is a common, yet often problematic method of entering a part. A straight plunge into a part can easily lead to tool breakage. If opting for this machining method, however, certain criteria must be met for best chances of machining success. The tool must be center cutting, as end milling incorporates a flat entry point making chip evacuation extremely difficult. Drill bits are intended for straight plunging, however, and should be used for this type of operation.
---
Straight Tool Entry
Straight entry into the part takes a toll on the cutter, as does a straight plunge. Until the cutter is fully engaged, the feed rate upon entry is recommended to be reduced by at least 50% during this operation.
---
Roll-In Tool Entry
Rolling into the cut ensures a cutter to work its way to full engagement and naturally acquire proper chip thickness. The feed rate in this scenario should be reduced by 50%.
https://www.harveyperformance.com/wp-content/uploads/2017/07/Feature-Image-Tool-Entry-IMG.jpg
525
1400
Harvey Performance Company
http://www.harveyperformance.com/wp-content/uploads/2018/08/Logo_HarveyPerformanceCompany-4.png
Harvey Performance Company
2017-07-17 14:53:06
2021-11-19 08:30:10
Most Common Methods of Tool Entry