Due to the differences in naming conventions between manufacturers, some Harvey Tool holemaking and threading tools will not appear exactly as you think in Fusion 360. However, each tool does contain a description with the exact name of the tool. For example, Harvey Tool Flat Bottom Drills display in Fusion 360 as Counterbores, but the description field will call them out as Flat Bottom Drills, as you can see below.

Harvey Tool has a line of High Performance Composite Drills with the Brad Point geometry that prevents fraying and tear out. Fusion 360 does not currently support rendering the tip geometry, so What the user will see in the software is the initial drill point and then a flat that transitions to the drill diameter. This transition matches the point in which the brad point geometry would return to the drill diameter and was done to ensure that the flute length of the drill is correctly displayed within the software. We have also added a note in the Product Link field for those tools, which you can see below.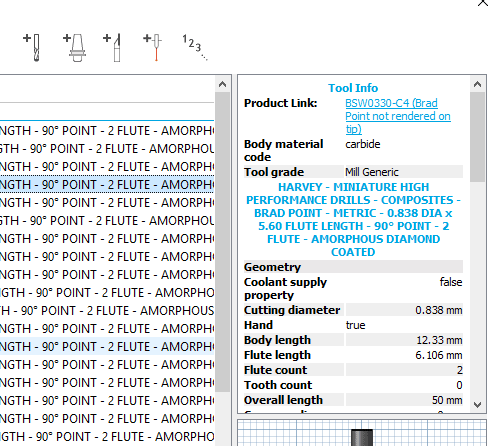 Below is a chart that will help you match up Harvey Tool names with the current Fusion 360 tool names.
| | |
| --- | --- |
| Tool Name | Fusion 360 Name |
| Combined Drill & Countersink | Center Drill |
| Counterbores – Flat Bottom | Counterbore |
| Miniature Drill | Drill |
| Miniature Drills – Spotting Drill | Spot Drill |
| Miniature High Performance Drills – Aluminum Alloys | Drill |
| Miniature High Performance Drills – Deep Hole Coolant Through | Drill |
| Miniature High Performance Drills – Flat Bottom Drill | Counterbore |
| Miniature High Performance Drills – Hardened Steels | Drill |
| Miniature High Performance Drills – Prehardened Steels | Drill |
| All Other Holemaking/Threading Tools | Form Mill |
http://www.harveyperformance.com/wp-content/uploads/2018/08/Logo_HarveyPerformanceCompany-4.png
0
0
Jeff Rauseo
http://www.harveyperformance.com/wp-content/uploads/2018/08/Logo_HarveyPerformanceCompany-4.png
Jeff Rauseo
2019-04-01 10:12:26
2019-04-01 10:49:00
Working with Holemaking/Threading Tools