Tool
Tool
Need help finding a Helical Solutions Distributor? Click the button below or visit helicaltool.com/finddistributor to find your local Helical Solutions distributor.

Recognized as an industry leader in high performance carbide cutting tools, the Helical Solutions brand consistently outperforms the competition by offering not only extremely exceptional quality products but the technical expertise and solutions to go with them.
End Mills for Aluminum
Helical's End Mills for Aluminum are designed with geometries specifically engineered to accelerate metal removal rates and achieve a quality finish in aluminum and non-ferrous materials.
End Mills for Steels
Helical's End Mills for Steels are built for superior tool life in tough materials and offered in a variety of options that include variable pitch, multiple profiles, and flute counts.
Chamfer Mills
Helical's Chamfer Mills are an ideal choice for high quality corner conditioning where improved finish and increased tool life are of the utmost importance.
Operation
Operation
Follows the part profile after most of the material has been removed during a roughing operation.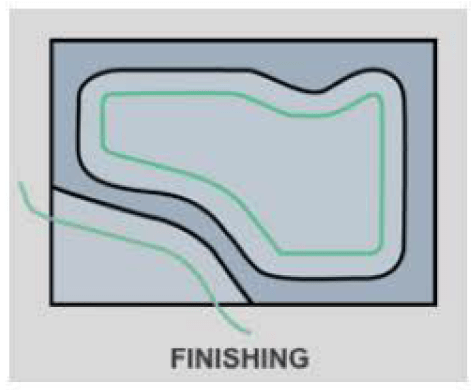 The endmill diameter is equivalent to the slot width and the path follows the centerline of the slot.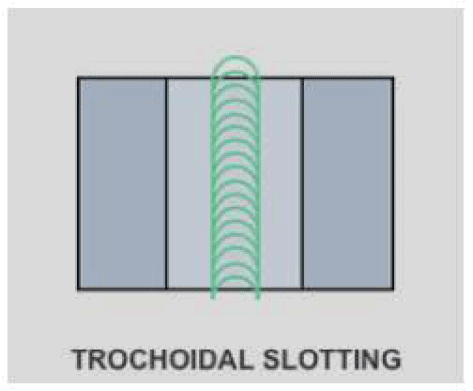 The endmill diameter is less than the slot width so it can follow a series of arcs. **
** These tool paths utilize a higher ADOC than the others. It is typically safe to use the full endmill LOC.
Rounded offsets with arcs that pick out slots and corners.
Loops expanding outward to part profile with smaller arcs picking out corners.
Equidistant parallel lines that fit with the cut area.*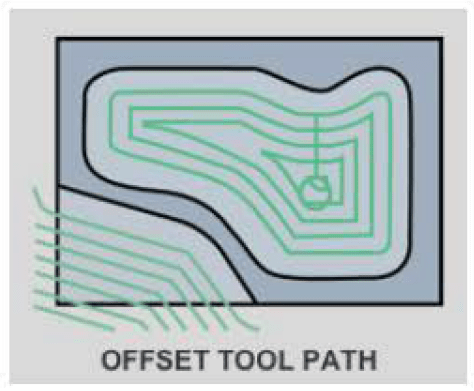 Equidistant offsets following the shape of the past profile.
* This is the least favorable tool path and it is not recommended. It utilizes both conventional and climb milling. 
Machine
Shank (spindle taper)
The upper section of the tool holder t hat fits into the machine tool spindle. This is the "male" interface of the "female" spindle.
Common spindles include:
-CV (also known as Caterpillar "V-Flange," or CAT)
-BT (a Japanese standard)
-HSK ( an abbreviation for a German phrase that means "hollow-shank taper")
-NMTB (National Machine Tool Builders Association)
Flange
The part of the tool holder that the machine tool changer locks onto when moving the tool holder between the tool changer and spindle. It is also referred to as the V-Flange in holders with CV, BT, and HSK.
Holding Section
This is the section of the tool holder that secures the cutting tool inside the tool holder.
Common holders include:
-Weldon (or endmill adapter)
-Shrink-Fit Adaptors
-Hydraulic Chucks
-Milling Chucks
-Press-fit Adaptors
-Collet Chucks
Gauge Length
Distance from the bottom of the machine tool spindle to the bottom of the tool holder (measured when the tool holder is mounted in the machine spindle).
Parameters
Parameters
The RDOC and TEA have a direct trigonometric relationship to one another.*
Heavy RDOC/TEA
-More cutting work per tool rotation, requiring slower surface speed!
-Difficulty with chip evacuation may require lighter ADOC and/or fewer flutes
-Fewer re-positioning moves, resulting in shorter cycle time
Light RDOC/TEA
-Less cutting work per tool rotation, allowing faster surface speed
-Better chip evacuation, allowing increased ADOC and/or more flutes
-More re-positioning moves, resulting in longer cycle time
*As stated above, there is a direct trigonometric relationship between the radial depth of cut and the tool engagement angle. Also important to understand is how TEA/ROOC affects "chip thinning".
Also known as Step Over or Cut Width (often expressed as a percentage of RDOC to endmill cutting diameter).
Also known as Step Down or Cut Depth (often expressed as a percentage of ADOC to endmill cutting diameter).
Heavy ADOC
-More tool deflection, requiring lighter chip load
-Difficulty with chip evacuation may require lighter ROOC and/or fewer flutes
Light ADOC
-Less tool deflection, allowing heavier chip load
-Better chip evacuation, allowing increased ROOC and/or more flute
The distance from the end of the holder/collet to the end of the tool. The more the tool sticks out, the less rigid the setup. This results in increased deflection (may require lighter chip loads) and decreased natural