Workshops for Warriors – Featured Customer
Featured Image Courtesy of Workshops for Warriors
In 2008, Hernán Luis y Prado, a United States Navy officer, noticed his fellow service members looking for a successful path in life after service. Hernán decided he needed to make a change. He set out to make a difference for his fellow service members by starting Workshops for Warriors, a state-licensed, board governed, fully audited, nonprofit school. Its mission is to provide quality training, accredited educational programs, and opportunities for its students to earn third-party nationally recognized credentials to enable Veterans, transitioning service members, and others to be successfully trained and placed in their chosen advanced manufacturing career field.
We had the honor of speaking with Marine Veteran Scott Leoncini, an instructor at Workshops for Warriors, about the accomplishments and amazing work Workshops for Warriors does for our Veterans.
What Does Workshops for Warriors Offer for Our Veterans?
Workshops for Warriors offers two primary tracks of training, both taught by Veterans: welding and machining, Scott explained. After choosing a track, students become a part of the 16-week accelerated program. Those with only a minimum of four months and one nationally-recognized certification can walk across the shipyards and gain employment. Workshops for Warriors remains committed to providing free training to Veterans who do not have access to living-wage jobs. U.S. Veterans often face challenges as they transition to civilian life, including significant barriers to civilian employment. In addition to the hard technical skills, our students are also learning soft skills such as attitude, communication, work ethic, teamwork, time management, problem-solving, critical thinking, and conflict resolution.
A proven path into a rewarding career can eliminate problems like unemployment, homelessness, broken families, and suicide. The problem of Veteran unemployment does not have easy, short-term solutions. Workshops for Warriors is uniquely positioned to expand proven innovative techniques to give Veterans marketable employment that will allow them to build careers and families.
How Did You Find Workshops for Warriors and Become an Instructor?
After I left the Marines in 2009, after serving two tours in Iraq as a combat engineer, I desired an action-packed career. I thought my best option was to start a career in law enforcement. I got a job at a security company and worked there for a few years. During this time, a close friend of mine tragically passed away in a helicopter crash, leaving behind his pregnant wife. This made me reevaluate my current life with my wife and two children. I decided I didn't need that action-packed career, and that my family comes before anything.
Another friend of mine actually told me about Workshops for Warriors and how it was giving him career skills in welding, and he talked about a machining program. When I showed up, I had no idea what was in store for me. I started learning all about CNC machines, and how to program and run these things. It was eye-opening and I was having a great time. After my first semester, I was asked to become a teacher's assistant and I've been teaching here now for almost five years.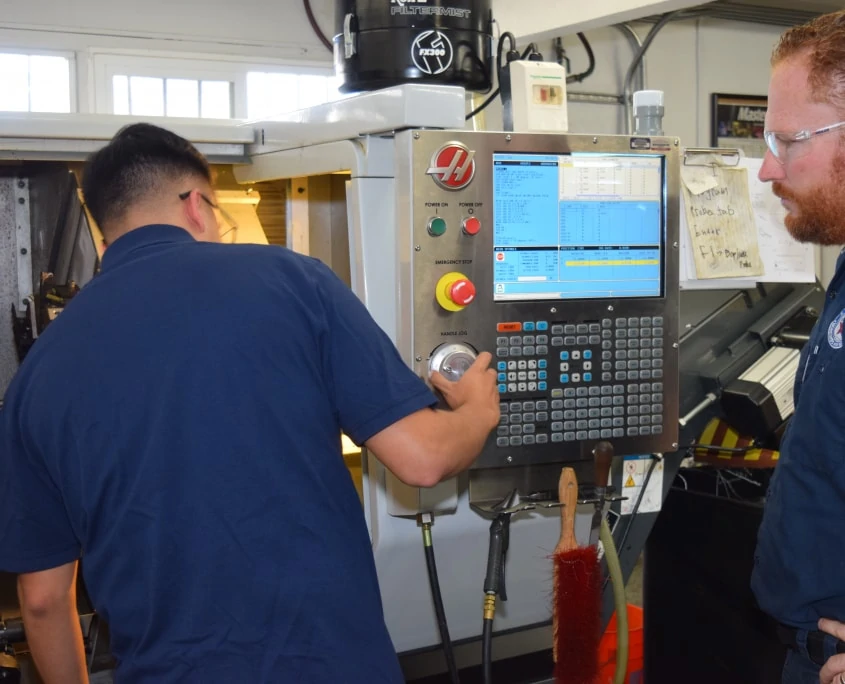 Where Does Your Passion for Teaching Come From?
I love teaching Veterans and helping them transition so they don't have to go through the same five years I did of, "What am I going to do with my life?" I've gone through the same situation a lot of the people coming to us are currently in.
I think that there are three fundamentals that anyone looking for a career or path can apply to their lives and be successful. You have to show up on time, you have to work hard, and you have to be willing to learn. I didn't know anything about machinery when I first got into this field. When I went through it as a student myself, I applied those three things to my work habits, and now I'm an instructor. I had pigeonholed myself for a long time. But you have to recognize that there's always something else, something up next and that's what I want to help teach the Veterans who come through here.
What Courses Does Workshops for Warriors Provide?
We offer many different courses, including CAD courses in Solidworks and CAM courses in Mastercam, and we offer welding courses for Gas Metal and Flux Cored Arc Welding. We also offer advanced training in Flowmaster Programming and Waterjet Operation, 3D Printing, and Robotics. With these courses, we offer many credentials to start a real career. The machining program is accredited by the National Institute for Metalworking Skills (NIMS). NIMS is recognized by the United States Department of Education. The welding program is accredited by the American Welding Society (AWS), which is the worldwide leader in certification programs for the welding industry.
Thanks to private donors, Veterans and transitioning service members are able to become trained and certified in our advanced manufacturing programs. Students can apply to enter one of our programs, or take specific classes that meet their needs.
What Jobs Have You Seen Veterans Acquire After Workshops for Warriors?
We have seen many success stories from Veterans once they leave Workshops for Warriors. One Veteran, in particular, visited us in search of direction in 2019. The machining program had one spot left for the semester, so he took it. He is now certified in machining and welding. He entered a job market that was struggling after his graduation. But he still had a job lined up with 5th Axis Machining in San Diego. His future plans are to own his own business to support his family.
How Could People Help Support Workshops for Warriors?
They can donate directly to us on our website, or on our Facebook page. Or, people looking to help support us can reach out to us by email, [email protected], or by calling us at 619-550-1620, with any questions. We also accept equipment donations for each program, welding, and machining. You can also support us by following on Facebook, Instagram, Twitter, LinkedIn, YouTube, or our newsletter.
What Advice Would you Give to Anyone Looking to Start a Career Path?
After leaving the service, I fell into a depression. I kept thinking, "I'll never be as good as I was back then." It was hard to not have "Marine" be the primary part of my identity, so I became blinded by my obsession with still being the superhero kicking down doors. Don't paint yourself into a corner. Be flexible and make sure to show up on time, work hard, and be willing to have an open mind and ready to learn. Test your comfort zone. When I left the service, I only knew how to be the man with the gun. Workshops for Warriors gave me a chance to be more than that – it gave me a direction in life. I now get to do what I love and help my fellow Veterans.
To learn more about Workshops for Warriors and their mission you can visit their website or follow them on Instagram, Facebook, LinkedIn or Twitter.
https://www.harveyperformance.com/wp-content/uploads/2021/01/WFWFeature.jpg
443
1181
Guy Petrillo
http://www.harveyperformance.com/wp-content/uploads/2018/08/Logo_HarveyPerformanceCompany-4.png
Guy Petrillo
2021-01-20 14:00:10
2021-07-22 08:59:48
Workshops for Warriors – Featured Customer