Schon DSGN – Featured Customer
Featured Image Courtesy of Ian Schon, Schon DSGN
In 2012, engineer Ian Schon wanted to put his skill for design to the test. He decided to challenge himself by designing a normal, everyday item: a pen. His goal was to take the pen from the design concept to manufacturing it within his own shop. Ian designed his pen how he thought a pen should be: durable, reliable, compact, leak-proof, and easy to use. Most of all, though, he wanted the pen to be of a superior quality, not something easily lost or thrown away.
With the design concept in place, Ian started his work on engineering and manufacturing his new pen. He made many prototypes, and with each discovered new features and additions to better his design. Today, Ian manufacturers his pens through local fabrications in Massachusetts, using local supplies. He makes them from 6061 Aluminum, unique in that it molds to its users' hand, over time. His pens are designed to outlast its user and be passed on through generations.
Ian was kind enough to take time out of his busy schedule to answer some questions about his manufacturing success.
What sets Schon DSGN apart from competition?
I think I have a unique approach to designing and manufacturing. I design things that I like, and make them the way that I want to. I don't rush things out the door. I'm not thinking about scale, growth, making a big shop, etc. I just want to live a simple life where I make cool objects, sell them, and have enough time in the week to sneak out into the woods and ride my bike. This ethos takes the pressure off a lot, and that makes the workflow freer without as much stress as I had in my past career as a product development engineer.
This workflow isn't for everyone. it's not a winning combo for massive business success, per se, and if you audited me you would tell me I'm holding back by not scaling and hiring, but I like it. I see myself as a hybrid between artist and entrepreneur. I love doing things start to finish, blank paper to finished part on the machine. Owning that entire workflow allows for harmony of engineering, machining, tooling, finishing, R+D, marketing, etc. Further, it ensures that I don't miss critical inflection points in the process that are ripe for process evolution and innovation, resulting in a better product in the end.
I'm sure the way I do things will change over time, but for now I'm still figuring things out and since I work largely alone (I have one amazing helper right now assisting with assembly, finishing, and shipping) I have lots of flexibility to change things and not get stuck in my ways.
Also, by working alone, I control the music. Key!
Where did your passion for pens come from?
My friend Mike had a cool pen he got from a local shop and I was like "man I like that," so I made one with some "improvements." At the time, in my mind, they were improvements, but I have learned now that they were preferences, really. I made a crappy pen on a lathe at the MIT MITERS shop back in 2010, and that summer I bought a Clausing lathe on craigslist for $300 and some tooling and started figuring it all out. I made a bunch of pens, wrote with them, kept evolving them, and eventually people asked me to make pens for them. I didn't really intend to start a business or anything, I just wanted to make cool stuff and use it. Bottle openers, knives, bike frames, etc. I made lots of stuff. Pens just stuck with me and I kept pushing on it as a project for my design portfolio. Eventually it became something bigger. Turns out my pen preferences were shared with other people.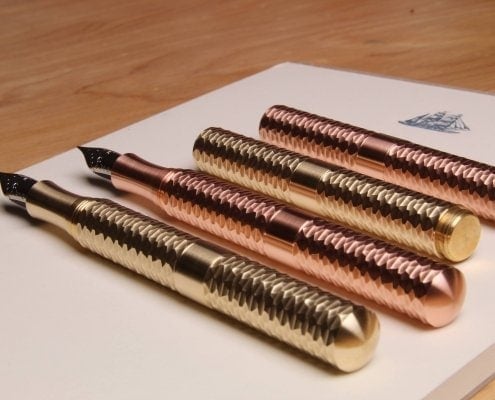 What is the most difficult product you have had to make and why?
Making watch cases – wow. What an awful part to try and make on a desktop Taig 3 axis mill and a Hardinge lathe in my apartment! I started working on machining watch cases in 2012, and I finished my first one in my apartment in 2015 (to be fair, I was working on lots of other stuff during that time! But yeah, years…). What a journey. Taught me a lot. Biting off more than you can chew is a great way to learn something.
What is the most interesting product you've made?
When I worked at Essential Design in Boston I worked on the front end of a Mass Spectrometer. The requirements on the device were wild. We had high voltage, chemical resistance, crazy tolerances, mechanism design, machining, injection molding – truly a little bit of everything! It was a fun challenge that I was fortunate to be a part of. Biomolecule nanoscale analysis device. Try saying that ten times fast.
I have something fountain pen related in the works now that I find more interesting, and very, very complex, but it's under wraps a bit longer. Stay tuned.
Who is the most famous contact that you have worked on a project with?
I have made watches for some incredible customers, but I unfortunately cannot talk about who they are. Most of my watch work outside of my own parts is also under NDA which is a bummer, but hey it was great work regardless.
Same thing with the pens. I know that some of my pen are in the touring cases of a few musicians, one of which is in the rock and roll hall of fame. But I have to keep it tight!
Before leaving to work for myself, I was part of a design team at IDEO in Cambridge that designed the new Simplisafe Home Security System. As an engineer and designer, I got listed on the patents. That wasn't machining and was more design and engineering of injection molded plastic assemblies, but it was still cool, though! Cutting my teeth in the design industry before machining helps me a lot with the creative process in the workshop. Lots of overlap.
What capabilities does your shop have?
I utilize Citizen L series sliding headstock machines to run my company. These are Swiss Machines (though made in Japan) with twin spindles and have live tooling for milling operations. I got into this type of machining after getting advice from friends in the industry and subcontracting my work to shops with these style of machines for 7 years.
Beyond the Swiss Machines, I have a new Precision Matthews Manual Mill, a Southbend Model A, a Hardinge Cataract Lathe, and a bunch of smaller Derbyshire lathes and mills. Most of these are for maintenance related tasks – quick mods and fixtures and my watchmaking/R&D stuff. I also have a Bantam Tools Desktop CNC machine on the way, a nice machine for quick milled fixtures in aluminum and nonferrous materials. I tested this machine during their development phases and was really impressed.
What CAM/CAD software are you using?
I use Fusion 360 for quick milled stuff, but most of my parts are programmed by hand since the lathe programming for Swiss work can be done without much CAM. I'm sure I could be doing things better on the programming side, but hey, every day I learn something new. Who knows what I'll be doing a year or two from now?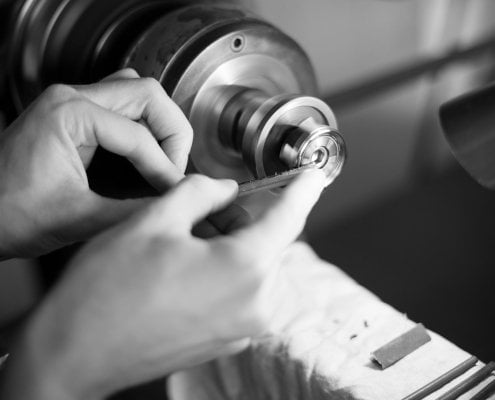 What is your favorite material to work with and why?
Brass and Copper. The chips aren't stringy, it's easy to cut quickly and the parts have this nice hefty feel to them. Since I make pens, the weight is a big piece of the feeling of a pen. The only downside is I'm constantly figuring out ways to not dent the parts as they are coming off the machines! My brass parts are like tiny brass mallets and they LOVE to get dinged up in the ejection cycles. I ended up making custom parts catchers and modifying the chutes on the machines to navigate this. I might have some conveyors in my future….yeah. Too many projects!
Why is high quality tool performance important to you?
It's not just important, it's SUPER important. As a solo machinist running my own machines, being able to call a tooling company and get answers on how I should run a tool, adjust its RPM, feed, DOC, or cutting strategy to get a better result is invaluable. I find that as much as I'm paying for tool performance, I'm also paying for expertise, wisdom and answers. Knowing everything is cool and all (and I know some of you out there know everything under the sun), but since I don't know everything, it's so nice to be able to pick up a phone and have someone in my corner. These tech support people are so crucial. Being humble and letting support guide me through my tooling challenges has helped me grow a lot. It's like having a staff of experienced machinists working at my company, for free! Can't beat that. Micro 100 and Helical have helped me tons with their great support.
When was a time that Harvey, Helical or Micro product really came through and helped your business?
The Helical team (shout out to Dalton) helped me nail some machining on some very wild faceted pens I was working on this month. When I switched to Helical, my finishes got crazy good. I just listened to recommendations, bought a bunch of stuff, and kept trying what Dalton told me to. Eventually, that led to a good recipe and manageable tool wear. It was great!
I also like how representatives from the Harvey/Helical/Micro family often cross reference each other and help me find the right solution, regardless of which company I'm getting it from. Nice system.
The quiet hero in my shop is my Micro 100 quick change system. It just works great. Fast to swap tools, easy to setup, cannot argue with it! Too good.
If you could give one piece of advice to a new machinist ready to take the #PlungeIntoMachining, what would it be?
Find a mentor who supports you and challenges you. Find a good tooling company, or good tooling companies, and make good relationships with their tech support so you can get answers. Make good relationships with service technicians who can help you fix your machines. Be a good person. Don't let yourself become a hot head under the pressure of this industry (since it can be hard at times!), cooler heads prevail, always. Be open to seeing things from other viewpoints (in life and in machining), don't be afraid to flip a part around and start over from square one.
To learn more about Ian and Schon DSGN, follow them @schon_dsgn and @the_schon on Instagram and check out his website. And, to learn more about how Ian got his start in the manufacturing industry, check out this video.
https://www.harveyperformance.com/wp-content/uploads/2020/09/Feature-Image-Schon-Design-IMG-1.jpg
525
1400
Guy Petrillo
http://www.harveyperformance.com/wp-content/uploads/2018/08/Logo_HarveyPerformanceCompany-4.png
Guy Petrillo
2020-09-10 13:18:44
2022-04-20 16:47:39
Schon DSGN – Featured Customer