TOMI Engineering INC – Featured Customer
Featured Image Courtesy of TOMI Engineering
Since its beginning in 1977, brothers Tony and Mike Falbo have made the focal point of TOMI Engineering to deliver quality, competitively-priced parts on time. TOMI Engineering has earned a reputation through the years as being a world-class manufacturer of precision machined components and assemblies for aerospace, defense, commercial and other advanced technology industries. They are fortunate to have the highest level of engineering, quality and programming personnel on staff, and, with over 40 years in the industry, there isn't a problem TOMI hasn't experienced.
With all the years of experience, TOMI Engineering has a lot of knowledge to share. We had the pleasure of sitting down with Tony and Mike Falbo to ask them about their experiences, techniques, tooling and a lot more.
How was TOMI Engineering INC started?
TOMI Engineering, Inc. began in 1977 when we (Tony and Mike) teamed up and got a loan from our father to purchase our first machine. The machine was used in the garage of our parents' home, which still resides in Tustin, California. Forty years, 20 current machines, and countless parts later, TOMI Engineering proudly serves the defense, airline, medical and commercial industries. We machine just about any type of product thrown our way. Over the years, we have made wing tips for the F16 fighter jet, enclosures for GPS housings, manifolds that help transport fluids, support frames for Gulfstream, cabin brackets for Airbus, ammunition feeders for tanks, and many, many others.
At TOMI Engineering, we aim to be a one-stop shop for our customers. Once we receive blueprints, we can program, machine, deburr, inspect, process and assemble most parts. We utilize a mixture of 3-and-4-axis machines in order to increase efficiency, which helps us to cut down costs to our customer. In our temperature-controlled assembly room, we can assemble bearings, bushings, rivets, nut plates, gaskets and sealants. We also hope to add additive machining to our repertoire soon.
What machines are you currently using in your shop?
Our 21,250 square foot facility houses 20 CNC machines. Most of our machines are Kitamura, OKK and Okuma. The purchase dates of these machines range from 1987 to December of 2019. With our large machine diversity, we can machine parts smaller than a penny, and as large as 30 x 60 inches. Most of the material that makes its way through our shop is aluminum. Whether it is 6061 or aircraft grade 7000 series, we aim to have most of our parts be aluminum. However, we do see a large amount of 6AL-4V titanium, along with 17-4 and 15-5 steel. We are currently utilizing Mastercam 2020 for most of our programming needs and are staying up to date with software upgrades and progression.
What sets TOMI Engineering apart from the rest of the competition?
We believe our greatest asset is our experience. Here at TOMI, we have been machining parts since 1977. In those 40-plus years, a lot of parts have come and gone through our doors and we have helped our customers solve a large array of problems. Most of our machinists have been with us for over 10 years, while some are approaching 20 years! Our programmers easily boast over 60 years of experience! With so many of our employees working together for so many years, it has really helped everyone to understand what helps us quickly machine our products, while being held accountable to the high standards of AS9100.
Where did your passion for machining start?
We grew up with machines in our garage and it wasn't until we needed money to pay for college that our dad realized he could show us the basics of operating a milling machine, which allowed us to pay our tuition while working at home in the evenings and weekends. Machining was more of a necessity than a passion at the time. However, after nearly 40 years in the business, it has been amazing to see the strides in technology from a Bridgeport Mill to the multi-axis lights-out machining that is available today.
My favorite part of the job has always been the flexibility it has allowed me. I had the opportunity to watch my kids grow up and be a part of their lives by going to their school plays, coaching them, and being home at night to help them with anything they needed. Most importantly, I've had the opportunity to work with my brother, my business partner, who also shares the same ideals about being with family, so we could always cover for each while the other was gone and spending time with their family. The business would not have worked without both of us understanding the importance of each other's input. The challenge of running a business keeps me going, and working with all of the different personalities was an added bonus.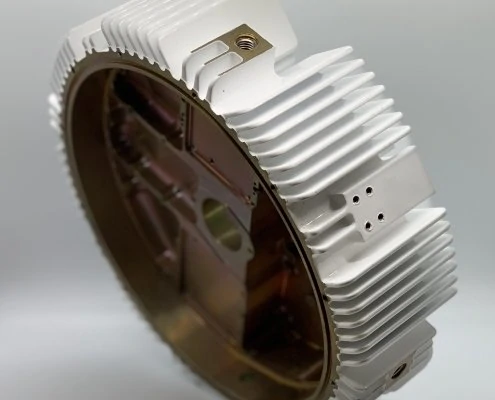 Who is the most famous contact that you have worked on a project with? What is the most interesting product you've made?
At TOMI, we do not work with specific individuals, so we can't really name drop. However, a vast majority of our work is for Airbus, Boeing, or the military. So it's pretty gratifying to say that we supply parts to some of the biggest companies in the world and that our work helps to defend this country.
The most interesting product we have made here at TOMI is a GPS housing for a defense contractor. This part encompasses everything that we can do at TOMI: precision machining, complex/multi detail assemblies, gasket assembly, and pressure testing fluid transportation components.
Why is high quality tool performance important to you?
High quality tool performance is important to us in many ways. Purchasing high quality tools allow us to constantly achieve premium surface finishes, push our machines to the high speeds and feeds that they are capable of, and enjoy noticeably longer tool life.
Every part, day-in and day-out, is different. Because of our vast array of products, our tools are always changing. But when we are picking out Helical End Mills for Aluminum, we always go with their 3-flute variable helix cutters, and we have always been happy with them.
What sort of tolerances do you work in on a daily basis?
The tolerances we typically work with are ± tenths of an inch, as well as very tight true position cal louts. We can hold and achieve these close tolerance dimensions through our very experienced Mastercam programmers, as well as our superior quality department. Our quality inspectors have over 30 years of experience in the industry and utilize two Zeiss Contura G2 coordinate measuring machines (CMMs). While in their temperature controlled environment, the CMMs are capable of measuring close tolerance dimensions and are used to generate data for inspection reports.
Are you guys using High Efficiency Milling (HEM) techniques to improve cycle times? What advice do you have for others who want to try HEM?
Yes, we are using HEM techniques to improve cycle times while roughing to increase our MRR while increasing tool life. If you have CAM/CAD software that supports HEM, then go for it! Machining Advisor Pro (MAP) is VERY helpful with the suggested speeds and feeds as a starting point. Over time though, and through experience, we have learned that every single machine is a bit different and often needs a different approach with speeds and feeds. Start with a smaller than suggested RDOC and physically go out to your machine and see how it sounds and what is going on. Then, start increasing and find that sweet spot that your particular machine runs well on. Many programmers in the industry will not take the time to go out and watch how their part is sounding and cutting on the machine and going out and doing that is the best way to really find out what you and the machine are capable of achieving.
If you could give one piece of advice to a new machinist ready to take the #PlungeIntoMachining, what would it be?
Ask questions! Don't be afraid to talk to programmers and fellow coworkers about what is trying to be achieved and WHY the programmer is holding tolerances a certain way. Learn from them and watch what every cutter is doing during your cycles. The more you learn, the more you can contribute to the machining process and move up in your business. Sometimes it takes just one good suggestion about the machining approach that can change the set-up process from aggravating to very easy. Lastly, be open minded to new ideas and approaches. As we said earlier, there are a ton of ways to make good parts in a constantly evolving industry.
Please take the time to check out the TOMI Engineering INC website or follow them on social media!
https://www.harveyperformance.com/wp-content/uploads/2020/06/Feature-Image-Tomi-Engineering-INC-IMG-1.jpg
525
1400
Guy Petrillo
http://www.harveyperformance.com/wp-content/uploads/2018/08/Logo_HarveyPerformanceCompany-4.png
Guy Petrillo
2020-06-09 09:56:33
2021-08-18 13:47:52
TOMI Engineering INC – Featured Customer