4 Essential Corner Rounding End Mill Decisions
A Corner Rounding End Mill is typically used to add a specific radius to a workpiece, or in a finishing operation to remove a sharp edge or burr. Prior to selecting your tool, mull the following considerations over. Choosing the right tool will result in a strong tool with a long usable life, and the desired dimensional qualities on your part. Choosing wrong could result in part inaccuracies and a subpar experience.
Selecting the Right Pilot Diameter for Your Corner Rounding End Mill

The pilot diameter (D1 in the image above) determines the tool's limitations. When pilot diameters are larger, the tool is able to be run at lower speeds. But with smaller pilot diameters, the tool can be run faster because of its larger effective cutter radius. The effective cutter diameter is determined by the following equations depending on the radius to pilot ratio:
For a Radius/Pilot Ratio < 2.5, Effective Cutter Diameter = Pilot Diameter + Radius
For a Radius/Pilot Ratio ≥ 2.5, Effective Cutter Diameter = Pilot Diameter + .7x Radius
Larger pilot diameters also have more strength than smaller pilot diameters due to the added material behind the radius. A smaller pilot may be necessary for clearance when working in narrow slots or holes. Smaller pilots also allow for tighter turns when machining an inside corner.
Flared or Unflared Corner Rounder
Putting a full radius on a part has the potential to leave a step or an over-cut on a workpiece. This can happen if the tool isn't completely dialed in or if there is minor runout or vibration. A slight 5° flare on the pilot and shoulder blends the radius smoothly on the workpiece and avoids leaving an over-cut.
A flared Corner Rounding End Mill leaves an incomplete radius but allows for more forgiveness. Additionally, this tool leaves a clean surface finish and does not require a second finishing operation to clean leftover marks. An unflared corner radius leaves a complete radius on the workpiece, but requires more set-up time to make sure there is no step.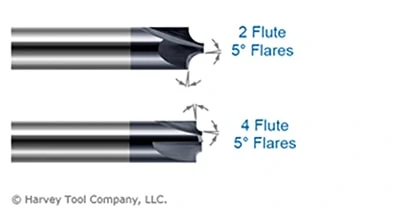 Front or Back
Choosing between a Corner Rounding End Mill and a Back Corner tool boils down to the location on the part you're machining. A Back Corner Rounding End Mill should be utilized to put a radius on an area of the part facing the opposite direction as the spindle. While the material could be rotated, and a front Corner Rounding End Mill used, this adds to unnecessary time spent and increased cycle times. When using a Back Corner Rounding End Mill, ensure that you have proper clearance for the head diameter, and that the right reach length is used. If there is not enough clearance, the workpiece will need to be adjusted.

Flute Count
These tools are often offered in 2, 3, and 4 flute styles. 2 flute styles are normally used for aluminum and non-ferrous materials, although 3 flutes is quickly becoming a more popular choice for these materials, as they are softer than steels so a larger chip can be taken without an impact on tool life. 4 flutes should be chosen when machining steels to extend tool life by spreading out the wear over multiple teeth. 4 flute versions can also be run at higher feeds compared to 2 or 3 flute tools.
Corner Rounding End Mill Selection Summarized
The best corner rounding end mill varies from job-to-job. Generally speaking, opting for a tool with the largest pilot diameter possible is your best bet, as it has the most strength and requires less power due to its larger effective cutter diameter. A flared Corner Rounder is preferred for blending purposes if the workpiece is allowed to have an incomplete radius as this allows more forgiveness and can save on set up time. If not, however, an unflared Corner Rounder should be utilized. As is often the case, choosing between number of flutes boils down to user preference, largely. Softer materials usually require fewer flutes. As material gets harder, the number of flutes on your tool should increase.
https://www.harveyperformance.com/wp-content/uploads/2018/06/Feature-Image-Corner-Rounded-EMs-IMG.jpg
525
1400
Harvey Performance Company
http://www.harveyperformance.com/wp-content/uploads/2018/08/Logo_HarveyPerformanceCompany-4.png
Harvey Performance Company
2018-06-08 10:00:44
2021-11-19 08:42:45
4 Essential Corner Rounding End Mill Decisions