What to Know About Harvey Tool's TiB2 Coating
Aluminum and magnesium alloys are common materials found in machine shops worldwide, and are known as an "easier" material to machine. However, machinists can still experience hiccups while machining this material if they are not prepared with the proper tooling.. When working with aluminum and magnesium alloys, it is important to choose a coating that will work to extend your tool's life and aid in the removal of chips. A popular choice for this material bucket is Harvey Tool's TiB2 coating.
What is Harvey Tool's TiB2 Coating?
Harvey Tool's TiB2 coating is a Titanium Diboride, ceramic-based coating that provides superb erosion resistance during machining. TiB2 is added to a tool by a method called Physical Vapor Deposition (PVD), which is conducted in a vacuum where particles are vaporized and applied onto a surface, forming thin layers of material onto the properly-prepped tool. This method enables the coating to be corrosion and tarnish resistant.

TiB2 is identified in Harvey Tool's product catalog with a "-C8" following the sku number. It can be found offered in Harvey Tool's lines of Variable Helix End Mills for Aluminum Alloys and Miniature High Performance Drills for Aluminum Alloys.
When Should a Machinist Use TiB2 Coating?
Chip Evacuation Concerns
TiB2 has an extremely low affinity to aluminum, which helps with the chip evacuation process. Simply, chips of a material are able to evacuate through chip valleys easier if they don't have a high affinity to the coating being used. TiB2 coating does not chemically react with aluminum and magnesium, which allows for smoother chip evacuation, as the chips do not stick to the coating and create issues such as chip packing. This is a common machining mishap that can cause both part and tool damage, quickly derailing a machining operation. By using a coating that increases the lubricity of the tool, chips will not have a surface to stick to and will more smoothly evacuate from the flutes of the tool.
Large Production Runs
While an uncoated tool may work fine in some applications, not all applications can succeed without a tool coating. When working with large production runs where the tools need to hold up through the process of machining large numbers of parts, using a coating is always recommended because they extend the life of your tool.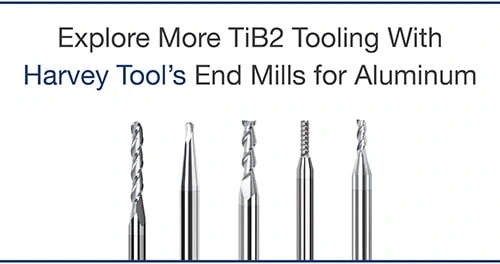 When is TiB2 Coating Not Beneficial to My Application?
Extremely Abrasive Materials
During the PVD coating process, tools can reach a temperature in excess of 500° F, which can cause the toughness of the carbide to drop slightly. This process does not normally compromise the performance of the tool due to the coating being placed over the carbide. The coating then protects the slightly weakened edge and increases tool performance in recommended materials. Micro-fractures only start appearing when the tool is being run incredibly fast through highly abrasive materials, leading to a decrease in the life of the tool.
Extremely Soft Materials
The coating, while only a few microns thick at most, still provides an ever-so-slight rounded edge to the cutting edge of the tools it is placed on. It is important to take this into consideration, as using the sharpest tools possible when working with materials such as soft plastics is recommended. The sharpest edge possible decreases the likelihood of any "pushing" that might occur on the material and increases the likelihood of proper "shearing" when machining.
When Finish Is Vital
If your part's finish is imperative to the final product, an uncoated tool may work better for your application. A coating, like stated above, creates a microscopic rounded surface to the cutting edge of the tool. When running tools at finishing speeds and feeds in materials like aluminum, a sharp edge can create the difference between a finished part that does – or does not – pass final inspection.
https://www.harveyperformance.com/wp-content/uploads/2019/03/Feature-Image-TiB2-Coatings-IMG-1.jpg
525
1400
Harvey Performance Company
http://www.harveyperformance.com/wp-content/uploads/2018/08/Logo_HarveyPerformanceCompany-4.png
Harvey Performance Company
2019-03-08 09:14:35
2022-04-20 16:07:45
What to Know About Harvey Tool's TiB2 Coating