Featured Image Courtesy of Pete Payne, Heavy Duty Racing
Heavy Duty Racing is a manufacturing company based in Stafford, VA, that specializes in motocross, off-road motorcycle suspension, and 2-stroke engine modification. Its owner, Pete Payne, grew up racing motorcycles. Later in life, he even taught classes on how to race. Simply, Motocross and motorcycles became Pete's passion.
Pete always looked for ways to enhance his motorcycle's engine, but quickly realized that no shops in his area could design what he was looking for. To get access to the parts he would need, he would have to rely upon companies from far away, and would oftentimes be forced to wait more than three weeks for them to arrive. Because of this, Pete decided he would need to take part manufacturing into his own hands. He purchased a manual lathe, allowing him to make modifications to his two-stroke engines exactly how he wanted them. Quickly thereafter, Heavy Duty Racing was born.
Pete discussed with us his love of racing, how he first got into machining, the parts his shop has designed, and tips and tricks for new machinists.
How did you get started in machining?
Since I was a kid I have been riding motorcycles and racing motocross. I went to a tech school in the '80s and learned diesel technologies. When I realized nobody in this area could help design the engines I wanted to make, I decided I needed to learn how to do it myself. I have a friend, George, who is a retired mold and die maker that also worked on motorcycle engines, I asked him for some advice on how to get started. George ended up teaching me all about machining and working on engines. I really learned from failures, by trying new things, and doing it every day. I started Heavy Duty Racing in 1997 and we have been modifying and designing the highest performing engines since then.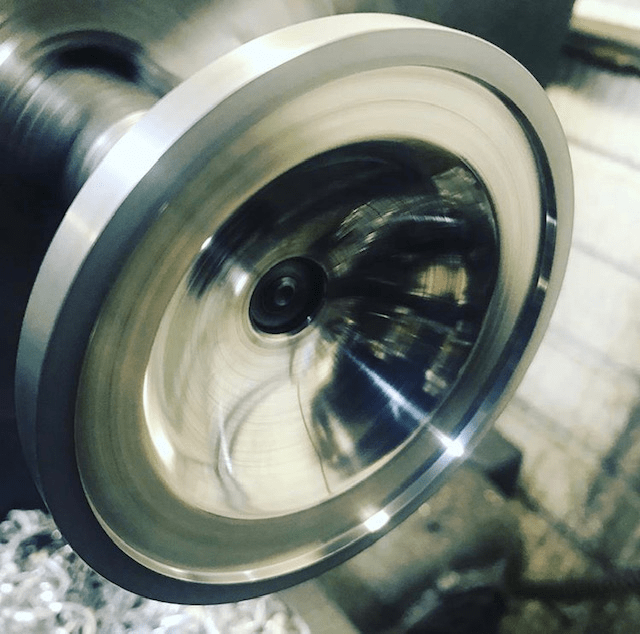 What machines and softwares are you using in your shop?
We currently have a Thormach PCNC 1100 and a Daluth Puma CNC Lathe (we call it The Beast, it's angry and grumpy but it gets the job done). We also have a Bridgeport Mill, Manual Lathe, and a Tiggwell. When we were choosing software to use, they had to be easy and quick to learn. We weighed our options and decided to use Autodesk Fusion 360 about 5 years ago. We mostly machine cast iron and steel since most engines are made from those materials.
What sets Heavy Duty Racing apart from competitions?
We have a small hands-on approach and treat every part with care. We don't have a cookie-cutter process so we are very flexible when it comes to customer needs. Since each part is different, we don't have set prices and have custom quoting on each part. We value our customers and tailor every build to the rider, based on the weight, fuel, and skill level of the rider. We make unique components for each rider so they can have the best experience when they hop on their bike. We are just focused on letting people do what they love.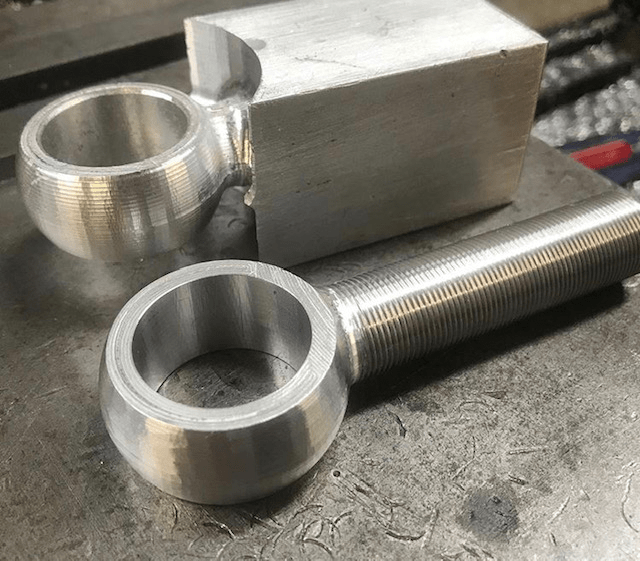 What is the coolest project you have worked on?
In 2016, MX Tech Suspension in Illinois gave us the opportunity to build an engine for them to display at their event. We got to go to California to watch them demo the engine in front of thousands of people. It was very nerve-racking to watch it live but the experience was amazing. The engine was later featured on the cover of Motocross Action magazine. It was very cool to see something we dedicated so much hard time toward get that much recognition.
Why is high quality tooling important to you?
We are making really difficult machine parts so we need tools that can last. Micro 100 tooling lasts and does the job. The thread mills we use are 3-4 mm and 14 mm and they last longer than any competition out there. The thread mills do not chip like the competition and the carbide is super strong. Breaking a tool is not cheap, so to keep one tool in the machine for how long we have has really saved me in the long run. We found Micro 100 one day looking through our distributor's catalog and decided to try some of their boring bars. After about 5 holes, we realized that these tools are the best we have ever used! Micro has had everything I've been looking for in stock and ready to ship, so we have yet to need to try out their custom tools.
Most engine tolerances are no more than .0005" taper. You need the tooling to hold tight tolerances, especially in engines. Just like with tooling, minimizing vibration is key to getting the engine to last longer. We need tight tolerances to maintain high quality and keep engines alive.
If you could give one piece of advice to a new machinist ready to take the #PlungeIntoMachining, what would it be?
The same advice I've given to my son: Don't be ashamed to start from the bottom and learn from the ground, up. Everybody wants to make cool projects, but you need to learn what is going on around you to master the craft. Learn the processes and follow the steps. It's very easy to break a tool, ruin a part, or even hurt yourself. Don't be scared of quality tools! Buying the cheap stuff will help you with one job, but the quality tools last and will save you in multiple situations.
Follow Heavy Duty Racing on Instagram, and go check out their website to see more about them!
https://www.harveyperformance.com/wp-content/uploads/2020/11/Featured-Image-Heavy-Duty-Racing-IMG-1.jpg
240
640
Guy Petrillo
http://www.harveyperformance.com/wp-content/uploads/2018/08/Logo_HarveyPerformanceCompany-4.png
Guy Petrillo
2020-11-23 11:43:17
2021-08-27 14:18:46
Heavy Duty Racing – Featured Customer