A machinist is faced with many questions while selecting the proper tool for their job. One key decision that must be made is whether a material specific tool is appropriate and necessary for the application that's going to be performed – whether the benefits of using this type of tool outweigh the higher price tag than that of a tool designed for use in a variety of materials. There are four main categories to consider when deciding whether a material specific tool is your best bet: internal tool geometry, coatings, material removal rates (MRR), and cost.
When to Utilize Material Specific Tooling
Are you a machinist in a shop that deals primarily with one type of material? Or, do you generally change materials frequently throughout the day? Further, how many parts do you make at a time? These are questions you must ask yourself prior to making a tooling decision.
Material Specific Tooling is best utilized where several parts are being machined of the same material. For instance, if your shop is machining 1,000 plastic parts, it would be in your best interest to opt for a tool designed for this material as your tooling would not only last longer but perform better. If machining flexibility is paramount for your shop, if you're only machining a few parts, or if part finish is not of high importance, a regular end mill may suffice.
Pros and Cons of Material Specific Tooling
There are pros and cons to purchasing a Material Specific Tool.
Pros:
Tool geometry designed for the material you're working in to achieve the best results.
Coating optimized for the material you're cutting.
More aggressive speeds and feeds, and boosted MRR as a result.
Increased tool life.
Cons:
Higher upfront cost, though long term savings are possible if used in proper situations.
Less opportunity for flexibility. While most end mills may be suitable for use in many jobs and many machines, Material Specific End Mills are engineered for use in specific materials
Special Benefits of Material Specific Tooling
A Unique Internal Tool Geometry
Many manufacturers supply tooling designed for use in specific material buckets. For instance, Harvey Tool has distinct catalog sections for material specific tooling for Hardened Steels, Exotic Alloys, Medium Alloy Steels, Free Machining Steels, Aluminum Alloys, Plastics, Diamond Tooling for Non-Ferrous Materials, and Composites. The special geometry of tools found in these sections is optimized to allow the tool to perform optimally in its select material group.
For instance, a machinist may be faced with a dilemma while preparing to machine a plastic part. While an end mill found in Harvey Tool's Miniature End Mill section could certainly machine this material, Harvey Tool's end mill offering designed to machine plastics feature a high rake, high relief design. This is ideal for plastics because you want to effectively cut and form chips while the strength of the tool is less of a concern. The high rake and high relief creates a sharp cutting edge that would quickly break down in metals. However, in plastics, this effectively shears the material and transfers the heat into the chip to produce a great finish in your part.
Specific Coatings & Substrates for Optimal Performance
One key benefit of opting for a material specific tool is the ability to utilize the best coating option available for that material. Tool coatings serve many functions, including improved lubricity, increased tool life, and a higher-quality part finish. In addition, coated tools can typically be run around 10% faster than uncoated tools.
While many manufacturers will specially coat a standard end mill at your request, this takes added time and cost. In its Material Specific catalog sections, Harvey Tool offers coated tools stocked and ready to ship. For instance, their Hardened Steels and Exotic Alloys categories utilize AlTiN Nano coating. This is a unique nanocomposite coating that has a max working temperature of 2,100° F and shows improved performance in materials such as Hardened Steels, Titantium Alloys, and Inconel, among others.
Increased Material Removal Rates
Because Material Specific Tooling features optimal tool geometry for a job, running parameters are generally able to be more aggressive. Any machinist knows that Material Removal Rates (MRR), is the metric that's most closely related to shop efficiency, as the more material removed from a part in a given period of time, the faster parts are made and the higher the shop output.
The following example compares running parameters of end mills from Harvey Tool's Miniature End Mill and Material Specific End Mill Sections. You can notice that while key geometries between the two tools are identical, and are in use in the same material with the same operation, the chip load (+25%), linear feed rate (+33%), and depth of cut (+43%) are boosted. This allows for more material to be removed in a shorter period of time.
Miniature End Mill
Part Number: 836408
Description: 3 Flute 1/8 inch diameter 3x LOC Square Stub & Standard
Material: 6061 Aluminum
Application: Slotting
Speed: 10,000 RPM
Chip Load: .00124 IPT
Linear Feed: 37.2 IPM
DOC: .04375

Material Specific End Mill
Part Number: 942308
Description: 3 Flute 1/8 inch diameter 3x LOC Square Variable Helix for Aluminum Alloys
Material: 6061 Aluminum
Application: Slotting
Speed: 10,000 RPM
Chip Load: .00165 IPT
Linear Feed: 49.5 IPM
DOC: .0625
Extensive Cost Savings
The following chart displays a cost analysis breakdown between a tool found in the Miniature End Mill section, item 993893-C3; and a tool found in the Material Specific End Mill section, item 933293-C6. When compared for the machining of 1,000 parts, the overall savings is nearly $2,500.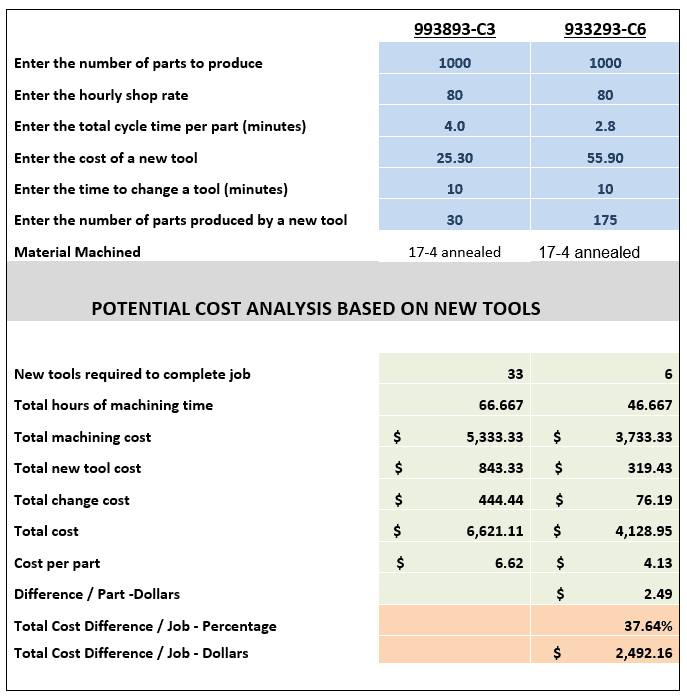 Material Specific Tooling Summarized
In conclusion, Material Specific End Mills have many benefits, but are best utilized in certain situations. While the initial cost of these tools are higher, they can work to save your shop time and money in the long run by lasting longer and producing more parts over a given period of time.
https://www.harveyperformance.com/wp-content/uploads/2019/02/Feature-Image-Material-Specific-Tooling-IMG.jpg
525
1400
Harvey Performance Company
http://www.harveyperformance.com/wp-content/uploads/2018/08/Logo_HarveyPerformanceCompany-4.png
Harvey Performance Company
2019-02-01 08:43:17
2023-10-24 10:55:30
How Material Specific Tooling Pays Off